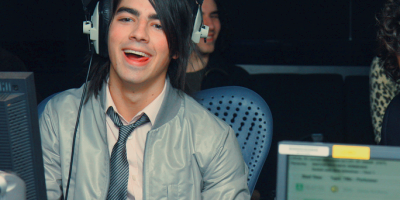 JAMES SIRIUS POTTER
a line or two of lyrics here. This is completely optional- I know how hard there are to find.
DID YOU EXPECT IT ALL TO STOP ?
the basics.
full name •
james sirius potter
nicknames •
jim. jimmy. jamie. james jr.
age •
seventeen
placement •
gryffindor
house and year •
gryffindor
occupation •
student
affiliation •
Order
wand •
11 1/4 inches. rose wood. dragon heartstring.
face claim •
joe jonas
height and weight •
5'6 & 133 lbs
physical differences to model •
none
introduction •
"okay so you want to know a little about me you say? well first of all, i'm the bloody son of the harry potter! yeah i know unbelievable right?! let me tell you its cool being the oldest in my family but being the oldest son of harry potter is even better. in certian places i get treated like royalty you know? okay okay i'm just joking, that doesn't happen but i wish it would. i just mostly get people asking me questions about my parents and whether or not i want to become like my dad. you know, an auror and head auror i might add, which i do want to become once i graduate from hogwarts. which means i've only got one more year left...well technically just this year. i'm seventeen years old and in my seventh year at hogwarts, just gotta make sure i can pass stupid potions you know?"
AT THE WAVE OF YOUR HAND ?
the personality.
patronus •
CHEETAH. the day he got his first broomstick, he was six years old and was allowed to help refferee a quidditch game at his grandma's place.
boggart •
seeing himself with the dark mark on his arm.
amorentia •
fresh out of oven bread. sweet ripe strawberries.
sexual orientation •
straight
a few words •
joker. loyal. absent minded. smart. friendly. talkative.
word on the street is... •
ACCORDING TO HARRY POTTER.
"the boy has a good head on his shoulders and knows how to handle himself in a tough situation. only problem is that he tends to have more fun and act like the child that he isn't. sometimes i wish he would get his mind out of the clouds and realize that he'll be entering the world soon, a world that isn't going to be easy like hogwarts is. after all he claims he wants to become an auror and in order to do that he needs to take things seriously for a chance. i know he can get the job done and i know he can do the work but it seems he's channeling my father more than he should. other than that he's a great kid and i'm not saying that because he's my son. i'm saying it because i know its true, he was always the one running to help one of his siblings or cousins and was usually the one that had to be pulled away from the other kid, especially if that kid was the one that was bullying either one of his siblings or cousins."
LIKE THE SUN'S JUST GONNA DROP ?
the history.
family•
HARRY JAMES POTTER - "he's my dad, plain and simple. i love the man and pretty much everything i know about defensive spells is thanks to him. and he's already told me that he'll help me out whenever he can for when i get into auror training. though i had made sure he promised not to give me any special treatment once i get into the program and have to go through all the training and what not."
GINNY MOLLY POTTER - "my mom is...well a mom for starters but other than that she's a great woman to know. just don't get on her bad side, trust me i've been there. but she's fun to hang out with and during the summer she doesn't care about having to spend so much time on work cause she'll gladly stop that to spend time with us kids and join in a quick quidditch match. mom here is definitely one of those cool moms...unless you piss her off."
ALBUS SEVERUS POTTER - "my younger brother who i would probably do anything for. we're only a year apart but you wouldn't know that if you saw us hanging out together. just because i'm the type of guy that likes to have fun more than do my schoolwork i make sure i spend time with my brother and sister. though you don't see me talking about girls with my sister but i do tend to do that with albus a lot. that and tease him about getting him a girl one of these days."
LILY LUNA POTTER - "ah my wonderful lovely baby sister, the bane of my existence. don't get me wrong i love the girl but she is a girl and one of those annoying sisters that like to tag along on everything. haha i'm just kidding, i never pitched a fit when lily wanted to tag along because i was usually dragging her along with me. i wasn't one of those brother's that didn't like having their baby sisters butt in and try to be like them, in fact i was probably the one that showed lily how to avoid getting caught half the time by our parents. and yes i will admit that i'm an overprotective brother that likes to watch out for his sister. if your a boy who's hoping for a date with my sister then you can bet that i'll be making sure you're good enough to be dating my sister."
bloodline •
halfblood
hometown •
godrick's hollow. london, england
income •
"uh hi hello! my dad is freakin' harry potter and head auror so that right there gives us quite a bit of money. plus my mum did used to be on a famous quidditch team so you can definitely say that we're doing good on money."
history •
"why in the world would you want to know about my life story? i mean i could just say go pick up the latest copy of whatever book that talks about the 'boy who lived' in this day and age. you can bet that i'm talked about in there only because i'm his son, his first born son for that matter. i mean having the name potter is one great thing but being his firstborn son in the wizarding world is kind of like being born into royalty almost. either way i'm the eldest of three kids, four if you want to count teddy as dad's kid even though he's not. teddy has just lived with us for as long as i can remember and been treated like family. but this isn't suppose to be about teddy cause its suppose to be about me and my story!

so to start off i was born on august tenth seventeen years ago, the year was 2005 to be exact. things were getting settled still but my parents were happily married and having a blast being new parents. of course from what grandma has told me mum wasn't too happy at first to be missing out playing in quidditch matches and travelling because of her work. but it seems after she had albus all that change, which was cool with me. after all i'm still the son of harry potter which is cool enough...well depending on who you are in the world. there are some people who aren't so glad to know that harry potter has brats running around haha. ahem *clears throat* anyways, i was born and my parents decided to name me after my grandfather and my dad's godfather. what the names were you ask? well they were james and sirius if course which means my full name is james sirius potter. it seems my parents choose people that meant something to them in life cause my brother was named after two great hogwart headmasters, albus dumbledore and severus snape; while my sister was name after our grandmother and mum's good friend, lily potter and luna lovegood. wait i mean luna scamander as she's called these days.

anyways my magic didn't show up until i was about five years old when one of my cousins decided to claim that my toy broom was theirs. i refused to accept the fact that i had to share so whenever someone who wasn't me it would simply slip out of their hands or it would fly out of their hands and back to me. yeah wasn't that big of a deal but hey it was still my proving that i wasn't a squid right? right. so it was proven even more when i turned eleven and got my hogwarts letter, the letter i couldn't stop talking about or thinking about the weeks after i got it. i was determined to get everything bought and packed up
IF IT'S NIGHT YOU DEMAND ?
pay no attention to the man behind the curtain.
and who do you think you are? •
name/alias
age •
optional, of course!
contacts •
Im services, email, PM?
secret phrase •
Hint: it's in the rules. bonus points if you tell me where it's from... Sadly, these bonus points are good for nothing. But you'd earn my love!