[Article] Interview with Gummy, Never needed voice training...
Gummy – Korea¡¯s Soul Music Jewel
"e-para" magazine interview with Gummy March 2005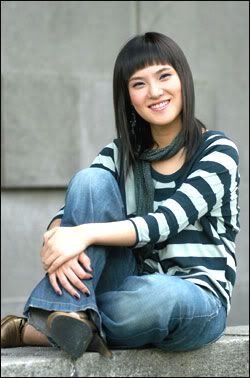 FEMALE SOUL MUSIC SINGER GUMMY GAINED ATTENTION IN JAPAN AFTER PARTICIPATING IN THE SOUNDTRACK FOR THE MOVIE ¡°ERASER IN MY HEAD¡± (³» ¸Ó¸® ¼ÓÀÇ Áö¿ì°³ ALSO CALLED ¡°MOMENT TO REMEMBER¡±). NOW YOU CAN¡¯T TALK ABOUT THE SOUL OR R&B MUSIC SCENE IN KOREA WITHOUT MENTIONING GUMMY.
GUMMY HAS RISEN QUICKLY IN THE LAST TWO YEARS ALONG WITH ANOTHER REPRESENTATIVE OF THE KOREAN R&B SCENE WHEESUNG. SHE RELEASED HER SECOND ALBUM IN 2004, A YEAR AFTER SHE DEBUTED. SHE REACHED NUMBER ONE ON THE KOREAN MUSIC SHOWS WITH HER LEAD SONG ¡°AMNESIA¡± FROM THIS ALBUM
Q: Gummy (in Korean ¡°Spider¡±) is an unusual name for an artist. When you decided on the name, didn¡¯t you think ¡°Huh? Spider???!¡± ?
I¡¯m female, so naturally I thought that way and at first I even felt it was an awful name [laughs]. But then I realized that female singers debut one after the other with cute names and I didn¡¯t want to be like one of them. Having a name that isn¡¯t too cute really makes me stand out amongst them! Actually I was about to debut under the name ¡°Me piano mo¡± but one day suddenly the manager of the company I work with said ¡°Your charm is that your music is so intense that once you¡¯ve heard it once you are trapped as if you were caught in a spider¡¯s web ¡°. That is when he came up with the name Spider (Gummy) and I also liked the strong charm of it and decided to go with it.
Q: At first you stage name was to be about pianos, and from a young age you dreamed of becoming a pianist, didn¡¯t you?
Becoming a pianist was a dream that I had a huge possibility of being able to make into reality, something that I thought I would naturally become. On the other hand I also longed to be a singer, but that seemed like a dream that was out of my reach. During middle school and high school I had planned to go overseas to study piano, but my family¡¯s finances became strained so I had to abandon that idea. A guy who was in the music industry happened to spot me when I was singing at a school festival and that was how my career as a singer began.
Q: Gummy, you seem to have a natural talent for singing, but at what age was it that you realized this for yourself?
[While laughing embarrassingly] From when I was little. According to my mother, I learned to sing before I could speak! From when I was so young that I couldn¡¯t even speak properly, I would copy the singers I saw on TV and sing along with them. I even managed to remember and sing Cho YoungPil¡¯s song even though it has really difficult lyrics! From when I was a kid I always had music in my life, and I think that it seems like fate that songs are everything for me. (Even while training before my debut) I never really had any special vocal training lessons. Because even then it was felt that I didn¡¯t need that kind of training. But I practiced a lot alone mimicking other singers. After I entered college (Dongduk Women¡¯s University music department) I started full-blown training and got a deeper understanding of vocal and breathing techniques.
Q: What singers do you want to admire and what to be like?¡¡Wheesung and In Sooni (a female Korean singer with a lot of power). Wheesung isn¡¯t black, but his music is precisely like that which a black musician could make. In Sooni is wonderful and has a great voice. Even as she gets older, she doesn¡¯t stop and continues to evolve in new ways which is something I¡¯d like to learn from. What I am for, is to be a singer and an entertainer who is always constantly evolving.
As for foreign singers, I¡¯d have to say Alicia Keys and Lauren Hill. Alicia learned piano and classical music from a young age so we have that in common. But she has gone even further and has even composed songs. Lauren is more than just a singer. She is also a musician and has a talent for playing instruments and composing songs. That is something which I would like to learn from too.
Q: From the beginning did you always aim to be a soul singer like you are now?
I didn't think of being a soul singer from the start. When I was young I often listened to songs by Im HeeSuk (veteran jazz singer born in 1950) and Han YonAe (Korean female singer) due to my mother¡¯s influence on me. I wanted to become a singer like them, and as their styles are similar to soul music I ended up wanting to be a soul singer myself.¡¡
Q: Your second album ¡°It¡¯s different¡± has ended up with a much more soulful feel that your first album...
Actually my personal wish was to sing soul music from the first album. But other singers Wheesung and Big Mama who are under the same management label as me also make black and soul-style music, so to make my style a bit different I released a ballad album first. Personally I was disappointed by that, but I was able to change to my preferred soul music for my second album. I¡¯d been practicing soul style vocal techniques so my management company kindly let me go that way instead of sticking to ballads. The song ¡°Amnesia¡± was a song which I asked the composer to write for me.
Q: The second single from your second album ¡°Forget About Me¡± was included on the soundtrack for the movie ¡°Eraser in my Head¡±. Tell us what you thought of the movie.
It was interesting, but I cried so many times while watching it! (At the staff preview screening) I sat next to the actor Jung WooSung so I was very happy! [laughs]. By nature I like positive, cheerful movies, so I prefer romantic comedies to serious romantic movies. But this movie has a positive ending so it was great to feel the warm family love. Straight after watching the movie I felt like I want someone to love and someone to love me like in that movie! ¡¡
Q: You have blood type B, so that means that you love meeting new people and your specialty is giving people advice. Your motto is "laugh through the hard times too" and you have a very positive forward-thinking attitude. You are someone who is cheerful and has lots of friends...
By nature I'm a cheerful person who smiles a lot and enjoys being with other people. I was the typical extroverted B-type woman, but since becoming a singer I've become shy and more introverted. On my days off I just spend time at home or hang out with other people from the same entertainment company as me. But I'm still sensitive and my emotions can change drastically, which is one thing that still remains the same!
Q: Where do you see yourself in 5-10 years time?
I think I'll be studying jazz piano and composing in the United States. I'll study by listening to a lot of music by black artists and then I want to come back to Korea and give a Korean feel to the black soul music. Of course I also want to continue working as a singer and releasing albums, and I'll also try to sing Korean style soul music.
When a Korean person performs soul music it won't necessarily turn into Korean-style soul. Because if you try to imitate music that is second hand to you and not under your own feet, then you end up with just a cheap imitation of American soul music. But the charm and shades which live in Gummy¡¯s music are different from America¡¯s and have a strong Asia feel. She has taken the roots of the music and added a Korean touch to jazz and blues. May I suggest first listening to her songs on the ¡°Eraser in my Head¡± OST. And of course her first and second albums too!
Gummy's Profile
Real Name : Park JiYeon
Date of Birth : 8th April, 1981
Blood Type : B
¡¡
Participated in the 2002 YG Family (Korea¡¯s hip-hop family) collaboration album as Park JiYeon.
Debuted as a solo singer in 2003 under the M-Boat label which also manages such high level talent at Wheesung and Big Mama. Her first album was reminiscent of Korea¡¯s music scene in the 1990s, but she changed considerably focusing on soul music for her second album. She took the essence of jazz and blues music to create ¡°Gummy¡¯s World¡± which incorporates the sentiments of Korea¡¯s song styles. She is sure to one of the major singers in Korea in the future too.
Original article in Japanese at
http://www.e-para.co.jp
Translated by Goro-chan
Credits to Goro-chan @ solid07//dbskforever//SexyBi