Title: Euro 2012
Description: Poland, questions
YoungCasual - October 23, 2011 04:03 PM (GMT)
Yo Comrades, I'm looking to come over for European Championships next year to follow England, but also hope to take in the games of some other countries. Where is best city to stay and which is the best form of transport between cities?
A.K.A.belgradeinmade - October 24, 2011 09:11 AM (GMT)
QUOTE (YoungCasual @ Oct 23 2011, 04:03 PM)
Yo Comrades, I'm looking to come over for European Championships next year to follow England, but also hope to take in the games of some other countries. Where is best city to stay and which is the best form of transport between cities?

First of all dont call them comrades :dont :D ,u will fuck your self up right in the start there mate.2nd do u know where England is playing???U need to wait to see group draws,because England can play in Ukraine .
fan1953 - October 24, 2011 11:31 AM (GMT)
Right, I wanted to write about same ... Don't say to us "comrades", here it doesn't sound good.
YoungCasual - October 24, 2011 11:52 AM (GMT)
ahh right, just trying to be friendly :lol: this is more for pre-planning for before the draw, as i'm looking for a location to use as a sort of "base" city.
Semper Fidelis - March 13, 2012 10:08 AM (GMT)
Anybody from Poznan here? Need some links for hostels/hotels/houses for rents or something like that.
Svyatoslav - March 19, 2012 10:36 PM (GMT)
A lease of apartment is in Lviv, Euro 2012 Ukraine.Lviv.

My name is Svyatoslav, I live in Lviv (Ukraine) and I Lease the apartment out during Euro 2012. If there are the interested people, ask to bequeath me on mail: svyat_k@inbox.ru or please call me: 096-823-5551
Cheap prices, an apartment is my own. Thank you

Curriculum of matches
Saturday, on June, 9, 2012 #4: Germany vs Portugal, 20.45, Lviv

Wednesday, on June, 13, 2012 #11: Denmark vs Portugal, 18.00, Lviv

Sunday, on June, 17, 2012 #20: Denmark vs Germany, 20.45, Lviv

Invite fans to Lviv! It is possible to lease also on all period Euro 2012 (08.06.12-20.08.12)

Expect your comments here.

Svyatoslav - March 20, 2012 12:40 PM (GMT)
http://imageshack.us/g/845/img1034g.jpg/
3 room apartment for a street Zolota 18, in Lviv, with all terms for life, 2 floors, 6 berths, to the center of city to go 15 minutes, around a supermarket "Đóęŕâč÷ęŕ", pizzeria, pab the "Őěłëüíčé äłě Đîáĺđňŕ Äîěńŕ"
In an apartment is:
Ground floor:
- kitchen with a balcony (refrigerator, flag, microwave stove, tea-pot, washing-machine)
- bath (shower, rest room, hair dryer)
- 1 room with the closed balcony (sofa = 2 places)
the First floor: are 2 rooms bedroom (bed =2 places) + television set - 3 rooms with a balcony (bed = 2miscya), Internet.
At a necessity will meet in Aeroporti, and will conduct an excursion Lviv. To meeting. There is Question: 823-5551 svyat_k@inbox.ru
Q13SON - May 7, 2012 08:10 PM (GMT)
[YOUTUBE]http://www.youtube.com/watch?v=YtDhMzDkois[/YOUTUBE]
Gizmo - May 7, 2012 11:17 PM (GMT)
Chłopie weŸ się ogarnij i usuń to gówno.
Q13SON - May 8, 2012 06:00 AM (GMT)
QUOTE (Gizmo @ May 7 2012, 11:17 PM)
Chłopie weŸ się ogarnij i usuń to gówno.

Trochę dystansu do siebie i poczucia humoru życzę.
Amor Patriae Nostra Lex - May 8, 2012 07:29 AM (GMT)
Przecież to jest zajebiste. Kółko gospodyń wiejskich wyrwanych ze smutnej rzeczywistości PGRu napierdala radośnie folkiem w rytm z przytupem. Idealne połączenie kultury i charakteru polskiej wsi z najnowszymi trendami w muzyce, współgra to z podmiejskim charakterem tych mistrzostw. Warto dodać że na naszych oczach realizuję się "Polish Dream", gdzie zwykłe wiejskie baby robią karierę na emeryturze, podobno ZUS już planuje nakręcić o nich film pełnometrażowy. Jako scenerie teledysku proponuje malowniczą biesiadę gdzieś w Kurzeszynie, gdzie w akompaniamencie ludowych rytmów najebany jak dzik Smuda wybiera kadrę złożoną z farbowanych lisów przygotowanych przez równie upojonego sukcesem Late. Leci wóda, miód po czym wpada Tusk, przywozi ziarna maku i wszyscy ćpają do białego rańca. Na koniec wszyscy rzucają się na wóz z gnojem i oddalają w kierunku zachodzącego słońca.

To będzie hit jak chuj.
Gizmo - May 8, 2012 03:08 PM (GMT)
Tak, tak zajebiste, tylko póŸniej nie płaczcie, że nasz kraj postrzegajš przez pryzmat wozu drabiniastego i wšsatych januszy w białych skarpetach i sandałach.
Możemy z tego całego euro cyrku kręcić bekę, ale zakumajcie, że dla baboli z zachodu znakiem, że coœ znaczymy będzie bomba w ryj albo kop w dupę, a nie przeœmieszne filmy, w dodatku komentowane po polsku.
Pozdrawiam
Q13SON - May 8, 2012 03:53 PM (GMT)
Ludzie troche dystansu. Widzę że was już "piłkoszął" ogarnął - coca cola działa swoje. Większość tych co na stadionach w nosie ma tą całą komercyjną szopkę, która ze sportem ma tyle wspólnego co ministra mucha. Ten cały zespół Jarzębina jest idealną pointa do tego całego cyrku i prawda jest taka że wybrany dla beki ale jest najprawdziwszy z tego wszystkiego - mistrzostwa dla pieniędzy, najważniejsi sponsorzy a kibice złem koniecznym, kadra zbieranina szrotu który nie potrafi mówić po Polsku tak jak trener prawdopodobnie niedorozwinięty umysłowo. Chociaż emerytki mają ubaw a razem z nimi m.in. ja i inni którzy znają wartość swoją i swojego kraju i nie srają się że jak ktoś zobaczy w necie koło gospodyń wiejskich śpiewające "Smuda spoko" to źle sobie o mnie pomyśli.
Szkoda że tak wielu Polaków ciągle ma te zasrane kompleksy, brak poczucia własnej wartości i parcie na bycie "europejczykiem". Czarna śpiewająca w otoczeniu swoich kolegów jakiśtam oficjalny hymn jest zajebista bo zachodnia a swojskie babki to wiocha i obciach. Jakbyś nigdy jeden z drugim na wsi w kurze gówno nie wlazł.

Założę się że gdyby ten konkurs wygrał jakiś homoś śpiewający o równości to mało kto by się pruł na necie, że "obciach".

Pospinali byście się bardziej na Coca-Cole która Polaków w jednej z reklam w Hiszpanii przedstawiała jako biedaków zbierających puszki z coli żeby do domu przyjechać a nie z emerytek, które dają radę. ;)
Amor Patriae Nostra Lex - May 8, 2012 04:35 PM (GMT)
QUOTE (Q13SON @ May 8 2012, 03:53 PM)
Szkoda że tak wielu Polaków ciągle ma te zasrane kompleksy, brak poczucia własnej wartości i parcie na bycie "europejczykiem". Czarna śpiewająca w otoczeniu swoich kolegów jakiśtam oficjalny hymn jest zajebista bo zachodnia a swojskie babki to wiocha i obciach. Jakbyś nigdy jeden z drugim na wsi w kurze gówno nie wlazł.


Dokładnie. Co mnie kurwa obchodzi co jakiś spocony hiszpan czy najebany irol powie o organizacji tego burdelu. Mistrzostwa powinny być DLA NAS nie dla chołoty co przyjedzie najebie się troche pospiewa i pojedzie. Jesli sie komus nie podobaja brudne dworce, jak ktos kreci nosem na nasze dziury w drogach na brak znajomosci angielskiego to niech z cala serdecznoscią WYPIERDALA do swojego idealnego kraju. Wszyscy robia z Euro jakiś jebany konkurs piękności gdzie trzeba dobrze wypaść jakby od tego mialy nasze emerytury zależeć. Będzie mastercard hyundai coca cola calrsberg mcdonald i bóg wie co jeszcze (nawet kurwa piłkarzy nie mamy swoich) to niech przynajmniej nasze Polskie emerytki niech zrobią chujowy oficjalny folk.

Największy dramat tego całego Euro to jest to, że ludzie tacy jak my, którzy zjeździli za reprą tysiące kilometrów, zdarli gardła ,wydali tysiące zł na drogę, są spychani na bocznicę i traktowani jak śmiecie. Pamiętam jak czekałem na pierwszy mecz w Korei, pamiętam tą adrenaline na Slowacji, mecze w kotle, a teraz ? Kurwa, będziemy miec największa imprezę sportowa w historii Polski, w sporcie ktory kocham a jestem rozdarty bo nie wiem czy mam kibicować reprze czy nie. Boje sie ze gdy przyjdzie sukces nic sie nie zmieni, Tusk odtrąbi sukces, Lato i Smuda zostanie i syf bedzie taki jak był, może poza tym ze dokręcą nam śrubę jeszcze bardziej. Nie sadzilem ze dorzyje takich czasow ze bedzie mi kolo chuja latalo czy wygramy czy nie i to mnie w tym wszystkim wkurwia najbardziej.
Gizmo - May 8, 2012 06:19 PM (GMT)
Wasze pisanie tutaj da tyle co pierdolnięcie sobie baranka w domu z podskokiem.
Każdy ma wyjebane na to czy tamto, ale co ma pokazać ten film z babciami? Że wybraliœmy dla beki wiejskie klimaty aby oœmieszyć pzpn, skurwiela latę i dyzmę? Ok, my to rozumiemy, ale serialnie myœlicie, że taki Serb albo Chorwat zakuma bazę o co w tym wszystkim chodzi?
Ktoœ wkleił do strony opisujšcej gnoja tworzšcego antypolskie paszkwile na jewtubie:
http://wpolityce.pl/wydarzenia/27425-do-cz...owanie-warszawy
Oblukałem inne filmy tego hanysa na jewtubie i antypolski jad aż się leje z jego wypocin. Niech mi ktoœ wytłumaczy jak to się dzieje, że taka sprzedajna kurwa podajšca swoje imię i nazwisko bruŸdzi na Polskę i Polaków na oficjalu i nikt do tej pory nie zainteresował się jeszcze nim? Przecież po ryju widać, że to jednostrzałowiec. Nie ma nikogo na Œlšsku kto by mu raz i drugi przyjebał? Widać, że czuję się bezkarny.
fan1953 - May 8, 2012 08:42 PM (GMT)
Dobra panowie, żeby żyłka Wam przypadkiem nie pękła. Nie od dzisiaj wiemy, że to całe euro to jedna wielka szopka i myślałem, że kibiców siedzących w tym temacie od dawna to takie cyrki jak jakaś "piosenka kibiców na euro" to nie będzie dziwić ... a jednak. Mino wszystko uważam podobnie jak kolega Q13SON napisał, że ta piosenka prawdopodobnie została wybrana dla beki, no ale czy mamy się wstydzić takiej naszej kultury? Nie wierzę, że całe życie wszyscy siedzicie tylko i wyłącznie w dużych miastach i nigdy nie byliście na jakimś odpuście, czy festynie w małych miasteczkach i wsiach, gdzie takie zespoły to norma i na pewno nie robią tego dla pieniędzy. No i też kogo chcielibyście zobaczyć w zamian ? "feela" ? heheh. Euro-szopka mało mnie interesuje, ale ta piosenka to taki pstryczek w nos dla niektórych, a na pewno jest bardziej Polska i pasująca też do kultury wschodniej europy, niż jakaś afro murzynka śpiewająca na plaży między palmami, jakby to euro miało być gdzieś na Wyspach Karaibskich.
yrz - May 22, 2012 11:31 AM (GMT)
Brann - June 3, 2012 07:31 PM (GMT)
Anyone here good to write?

Could need an article that explains why most people here don't like Euro 2012. Give examples with the repression (arrests, new rules, bans etc.)

Need it one of the next days. Send me a pm if you want or leave a post here.
Amor Patriae Nostra Lex - June 3, 2012 09:35 PM (GMT)
Here you have a article from biggest polish fans site.

[translated by google]


CODE
Journalists, activists, football and a high degree of public opinion (along with "real" supporters) is shocked. Completely shocked and deeply, as it turns out that "kibole" have in the ass Euro 2012. How does it! The biggest event since the Congress of Gniezno, this opportunity for the region, half a million football fans from across the continent, and another team banners fly "Fuck Euro"?! The scale of surprise can be both readable and clear measure of social media and ignorance in the subject of football.

Because of what we like we supposedly enjoy? Already the first "signs" Euro gave us a hard felt. I think everyone remembers the great defeat of Euro 2012, which was mercilessly debunked on Polish stadiums. We, as the only social group, we had the courage and opportunity to say openly - to shoddy new buildings, no roads, the motorway is a farce, and the state of the economy - to put it very mildly - leaves much to be desired. Moreover, the same new stadiums is no fun. Monitoring, lack of industries for the guests, plexiglass, wszędobylscy stewards and duplex stands have nothing in common with the legendary, typical Polish climate, which aroused the admiration of the rest of Europe. Even if we let go away with the destruction of our beloved stadium and replace them with supermarkets, we can not forget the fateful was our opposition to the propaganda of success. "Fuck the economy, unemployment dick, the most important is the penalty for a banner on the fence" is not fiction after all, only real government response to criticism from the stands defiant. Hunt, which began just a few years before the Euro continues to this day, stumbled and wide and crossing the boundaries of absurdity.

Tougher sentences, or restricting freedom of speech is just the tip of the iceberg, the basis for which there is persistent change the mentality of the supporters, splitting them from the inside like a criminal group, depriving them of leaders, or the possibility of meetings, even on marches or demonstrations, which are immediately surrounded by police. When the camera light is said about the many facilities for fans, areas in which you will be baptized nawalić and renovated brewery (ahaaa) road, somewhere in the shadows is fighting a rostrum, where the use of all available weapons. Surveillance, tracking, fabricating evidence, or fabricating evidence - and even compulsion to direct, bruising at the old woman, pepper spray, loudspeakers, and ultra-modern police armor. In the background plays a big party being wrongly convicted, and the only 100% satisfied are the rulers and their klakierzy, repeated like a mantra "do not ruin the holiday complaining."

"Fuck Euro" does not stem solely from the attitude of fantasy - is that this tournament is not for us because it was known for months. This password is above all an expression of ordinary wkurwienia Pole, from which taxes have not been done almost nothing. Contractors, people who need to earn this great event and boost the economy with new projects do not get the money. The government is happy because at auctions rich people had a lot of its agents, and contractors rubbing their hands, because again and again receive a bonus, although all plans are light years away from a successful dopięcia. Zaglebie Lubin sings, "the euro is what we, as the stadiums in the country will be a crisis, Tusku fucking" and it is difficult to discuss with them. Euro will bring us only to loss - for us as fans, we as Poles. Therefore, very surprised - understand that the lack of interest among our eurohucpą Reply Reply brothers are normal, resulting from the adoption of reflective of reality, analyze profit and loss account and look deeper than just the screen displaying the bills of government propaganda on television TVN24.
Amor Patriae Nostra Lex - June 4, 2012 08:33 PM (GMT)
Another one : [by google translate]
Fuck Euro - supporters respond for destroying passion
The subject is often overlooked, and standing at the basis of negative attitudes supporters of the "mill", are the penalties for binding and banners. An interesting fact is that the League SA, the management company of the highest class division in Poland, praised binding, even at its Facebookowym fanpage'u while doing nothing to deal with that individual committees Football Association clubs impose financial penalties for those choreographies. After binding, even with the pyrotechnics look pretty smart, and they give color to the gray Polish football. All in all, they are also attracted to the stadiums, many young people, not the questionable quality, soccer spectacle.
In addition to the penalties for clubs for different types of banners and pyrotechnics, heavily got into the characters fans of police, capturing fans for profanity, or failure to comply with orders of protection. This aspect of the activities most felt the hard fans Korona Kielce and Jagiellonia Bialystok, especially the former, which ultimately resulted in the suspension of business at home games. The advantage is the fact that this subject has been publicized by the media, and thus, many activists, as well as the players stood in defense of szalikowców. The audience listening to the message, in which police press officers can be stars, showing the captures data on "hooligans" of stadium bans, probably the same tune, because I did not realize that the rules are so arranged as to allow for far-reaching interpretations, and therefore, not always the person who got banned from stadiums, enough to deserve it. You can imagine how he feels young fan, who spends his free time to prepare binding looked like the best, and when meetings are summoned to the police or a court hearing? Fanatical supporters, alongside such cases do not pass, and this is another reason why we do not intend to celebrate the upcoming tournament.
Aptly put it in one of the songs popular rapper Deobson environment. - "I used to reward for binding, now ban on non-chasing." The fans is very difficult to understand how it happened that a few years ago for setting using pyrotechnics got the prize, and now the stadium bans are punished, and not infrequently also bans exit.
Another example kibicowskim struggle with the environment, could be observed during the league match between Inverness Young, Wrocław and Silesia. When you enter the stadium to protect all very thoroughly searched, but the match with the team from Lower Silesia was not classified as a mass event. This did not prevent the police continue living uprzykrzaniu fans, what specifically complained. One of the culminating moments was the presentation of kibicowi 500-zloty fine for firing crackers. Doping at the meetings of the Young league is a great opportunity for youngsters entering the football salons. Is not that the best way to teach them to play under pressure when they see the stadium completed their fans, not just the activists and their own families? This begs the question why the police used this method of operation, in relation to a group of young people who want to devote their time and encourage a younger group of players? Is it wrong that fans want to spend your time in one place, without doing any harm (unless a single firing of firecrackers we consider as a serious misdemeanor)? Alleged police actions such loops on your neck, because this is probably what services should be the most dependent, so that young people can develop their own passion in the most civilized. What other equally interesting will provide entertainment for young people in uniform when they eliminate through the stadium bans from attending meetings of their own team? Is it so hard to understand that young people may need that adrenaline rush? Adrenaline resulting from the loud-doping, combined with watching the football spectacle.
The situation that occurred in Bialystok, may raise the same bad consequences. Wonder then that the fans are pre-averse with respect to the police, but it is in such cases, this reluctance is born. When young people see that they think someone wants to ban them was wrong what they love to do, it is difficult to reconcile them with this, especially if they feel innocent. Fans ask, therefore, it seems reasonable question: is coming on Saturday or Sunday afternoon to match the several hundred youngsters and loud cheering his beloved team's needs until such major measures to protect? Do not normally one patrol, which would all watch and do not unnecessarily provoke fans with their behavior? Can not you just ... normally?
In Poland it is difficult to imagine the elimination of the stadiums most loyal fans, and kiboli szalikowców, in the positive sense. Otherwise, świeciłyby stands empty, because it's fanatical supporters fill them in good times and bad. Examples are not only such clubs like Luton Town, which is one of the second drop in two years, yet they form a major part of the audience szalikowcy. An interesting look rostrum when Wisla and Legia played in the Polish Cup. The stadium in Krakow and Warsaw, in meetings with Ruch Chorzów and neck Wejherowo, stands empty, except for two sectors filled with the hosts, on which sat the element most fans, while indicating that regardless of the outcome and the level of rival sports, they will come to stadium for the club.
It is worth also considering how they will look after the Euro 2012 stadiums. There are different opinions about this event, but no one disputes that this is a very good chance for development, not only infrastructure, but also to raise the stadium attendance. The best example is our Western neighbors, who used a great World Cup in 2006. Currently attendance at Bundesliga matches is paramount, in many stadiums potrafiono get along with a more ardent fans, who have their own autonomy and work very spectacular, which even showed last season. A very large role in the German association, which teamed up with the fans during the World Cup in 2006 and part of the ticket they got just the fans who every day deal with the cheer own clubs.
So I wonder if PZPN able to the occasion and pull off to the stadium a new generation of fans. Because it's the fanatics in the stadiums will continue is uncertain. Today, however, had not they, attendance at matches would be wasted, and only through them attendance at many stadiums is not yet desperate. Therefore, it is hardly surprising that the fans every day with their problems, give them a word to any of the banners of "Fuck the Euro", which are a response to their opinion, the destruction of passion and commitment.
source:
http://ekstraklasa.net/fuck-euro-odpowiedz...a22dd0611010000
shit translation, if you will have problems with some parts just pm me.
FILATHLOS ULTRAS - June 4, 2012 08:34 PM (GMT)
GREEK HOOLS ARE COMING :box
Amor Patriae Nostra Lex - June 4, 2012 08:37 PM (GMT)
QUOTE (FILATHLOS ULTRAS @ Jun 4 2012, 08:34 PM)
GREEK HOOLS ARE COMING :box
yes we know
FILATHLOS ULTRAS - June 4, 2012 08:40 PM (GMT)
ALL your teams fans are ultras? :bye :bye

Some guys we dont care about troubles.he wants to see match..

Where are you from?
fan1953 - June 5, 2012 09:15 AM (GMT)
Ok, I have some free time and I decided to translate this article "fuck euro" from kibice.net, if there will be some mistakes you can improve.

Jurnalists, team's crews, footballers and wide public opinion (together with "real" fans) are shocked. Shecked completely and deeply, because now we see that "kibole" (kibole is ironic name of fanatic fans used by media in Poland) don't care about euro 2012. How is it ? The biggest event since Congress of Gniezno, real occasion for all region, half million fans of football from whole continent, and next groups are hanging banners "fuck euro" ?! the scale of surprise can be clear measurer of medial and social ignorance in football.

Because why we should be happy ? First "symptoms" of euro hit us strongly. I think everyone remember big defeat of euro 2012 project, which has been ruthlessly showed on Polish stadiums. As only one group we had brave and possibilities to say - new objects are hopeless, there are no roads, high road is comedy and state of the economy - saying softly - is not good. Anyway new stadiums it's nothing nice. Monitoriing, no sectors for away fans, everywhere stewards and 2-level stands it's nothing connected with our Polish legendary climate which was making admiration of rest of Europe. Even if we will forgive destroying of our lovely stadiums and replacing them by supermarkets, you can't forget how fateful in result was our disagree against success propaganda. "Chuj z gospodarką, chuj z bezrobociem, najważniejsza jest kara za transparent na płocie" (fuck economy, fuck unemployment, the most important is penalty for banner on the fence) - this is not fiction but real reaction of authorities for criticism from the side of defiant stands. Hateful campaign, started several years before the euro last till today, making bigger circles, and acrossing next borders of absurdity.

High judgements, limiting the freedom of speech, it's only the top of the iceberg, where the basis is changing the mentality of fans, destrying from the inside just like criminal groups, deprive the leaders and possibility of meetings like for example on manifestations, which are immidiately secured by police. Whie before the cameras they are talking about many facilities for fans, zones where you can get drunk of alcohols and repaired (hmm) roads, somewhere in the shadow is fight for stands, where they are using all possible weapons: surveillance, tracking, fabricating evidence - and also direct coercion, bruises at Staruch (Legia capo), pepper spray and ultra new police's armor. In the background of big event there are dramas of unfair convicted and only one glad in 100% people is our government and their supporters who are saying "don't destroy this holiday by complaining".

"Fuck euro" is not only typical fans mentality - that, this tournament is not for us we knew for several months. This slogan, first of all is symbol of pissed off ordinary Polish people from whom taxes was made almost nothing. Subcontractors who should get rich on this event and make our economy better from new contracts are not getting money. Government is happy because during the auctions many of government's members got rich and main executives are happy because often they are receiving extra money even if all plans are light-years from final realization. Zagłębie Lubin fans are singing: "na co nam to euro, na co te stadiony, w kraju będzie kryzys, Tusku pierdolony" (for what we have this euro, for what are this stadiums, in country will be crisis, you fucking Tusk) Tusk is Polish prime minister. Euro will bring us only loss - for fans, for Polish people. That's why - you surprised please understand, that our disinterest of euro-farce among our supporters brothers is normal thing, resulting from viewing reality, analysis of incomes and loss and looking deeper than screen of tv which shows only government propaganda in TVN24. (TVN24 it's big left wing, pro-gevernment canal).
Brann - June 5, 2012 07:06 PM (GMT)
Thanks for your help! Here is article, hope everything is correct.
If there is more anti-euro videos, please leave a link ;)
Fuck Euro 2012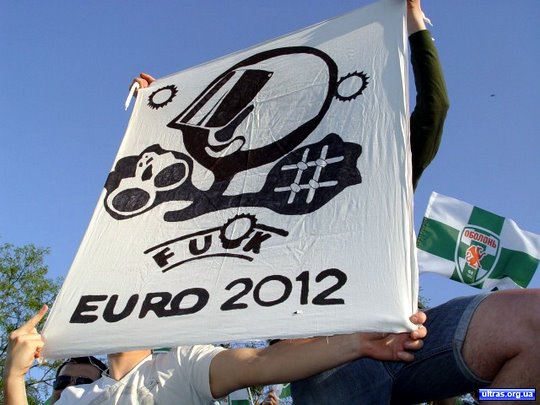 75people - June 6, 2012 06:22 PM (GMT)
ANCIENT HELMETS ARE COMING
Yps - June 7, 2012 01:16 PM (GMT)
[YOUTUBE]http://www.youtube.com/watch?v=LP1Ht4BXYlk&feature=player_embedded[/YOUTUBE]

Wisła on Dutch training with Anti-Euro banner.
75people - June 7, 2012 01:19 PM (GMT)