It was the fourth of July, 2005. I was out on a lake near my house wader-fishing in the pads on the edge of the lake. That is a really good spot and I had been doing very well there surface fishing for bass with a 3 hook rapala. 2 trucks pulled up behind my parents and about 14 people got out of them, some of them in the backs. We found out then that there were fireworks on that lake that night. I decided to keep fishing, as I was 1 fish short of my limit. It was getting darker. I figured I only had a couple more casts before I had to go up.
I cast my rapala in a promising looking pocket and started twitching it back. There was a big splash and I hooked and reeled frantically. I knew I had a fish on there, the line was heavy, but I didn't feel anything fighting. I reeled it in. When I picked my rapala up out of the water, I saw why there wasn't much fighting. There was a 3 pound bass on the back hook and a 1 pound bass on the front! I figured they must have had a disagreement on which way to swim so they didn't do very much pulling. :ROFL:
I wish there weren't so many people there when I caught the 2 fish. It gave away 1 of my good fishing spots, but I haven't seen them there very often.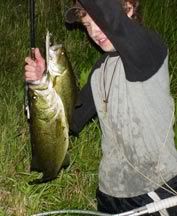 Riley