Title: Brawler Bash Player List **Updated 4-9-12**
khordale - April 10, 2012 03:27 AM (GMT)
**I know that some people have paid already. I am waiting on that list to be updated. Sorry for the inconvenience.**
Get your friends to register! Lets fill this baby up! :)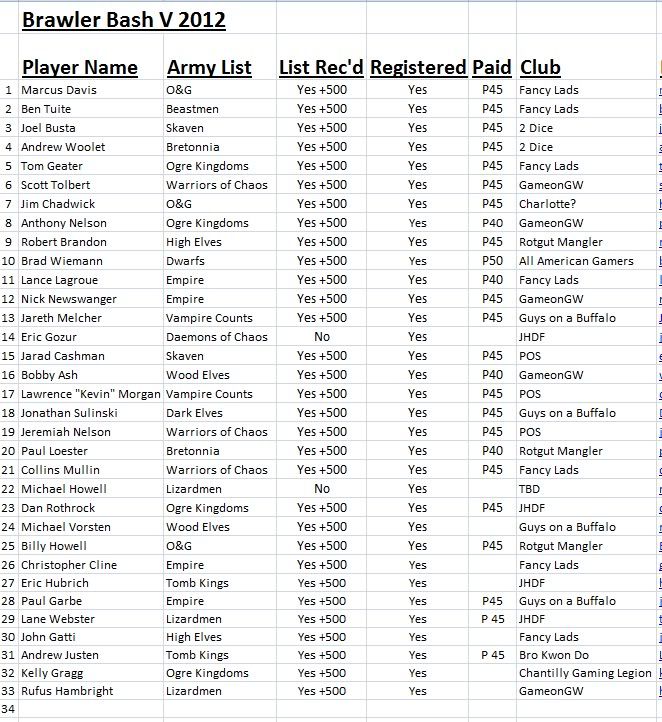 Shimmergloom - April 10, 2012 11:36 AM (GMT)
Who is playing as the ringer and what army is the ringer using, if we have an odd number of people?




Doblin James - April 10, 2012 11:55 AM (GMT)
Allright! We got some Wood Elves in the mix!
Karl-Christian - April 10, 2012 12:46 PM (GMT)
Shimmergloom - April 10, 2012 12:56 PM (GMT)
If the tournament were to end today, I would be #1.
Necronbob - April 10, 2012 02:53 PM (GMT)
There are an awful lot of steam tanks in that list.
Lanceocletian - April 10, 2012 05:54 PM (GMT)
I know I'm bringing two steam tanks with Karl Franz swingin' Ghal Maraz from an Imperial Dragon!
Posey - April 10, 2012 06:39 PM (GMT)
There appears to be a nice spread of armies that are attending.

4 Empire
3 O&G/Ogres/WoC/VC
2 Skaven/Brets/HE/WE/LM (I know of one more LM - no slann army that hasn't registered yet)
1 Dwarf/Beastmen/DE/TK
0 DoC

2 ?????? (Lane usually plays LM, I want to see it he has gotten the levitating Slann to work)

Interesting that there are no DoC and only 1 DE army.

-Tony

Shimmergloom - April 11, 2012 12:32 PM (GMT)
Erik, I got an email from the main convention saying that I had registered with them and paid, but that they have no record of me registering for the tourney.

I sent an email back saying that you have it showing that I registered and that I thought that I had registered.

Is there anything else I need to do? Does your records say that I registered for the tourney? I see that it says registered on the sheet, I just mean is there even more registering that I need to do.
khordale - April 11, 2012 01:50 PM (GMT)
Marcus, I have your registration e-mail from Jan 31. My records show you registered. That was much earlier than most other folks so it is possible they aren't looking back that far. Probably the easiest thing to do is register again (takes like 30 seconds). I already have all your information.
Here is the link:
http://www.trianglesimsociety.org/?page_id=141
Oh and Marcus,
ONLY
for you. No one else gets this ability at the Brawler Bash:
If you model up a bridge (so painted and everything) or bring a suitable terrain piece (borrowed or bought), then you can place the bridge on any table that you are playing on, with a water feature. Here are the specifics though:
-The bridge can be no wider than 7- 25mm models (so wide enough that a rank of 7 orcs can cross is ok-no wider).
-It must be placed BEFORE table sides are known and before any deployment of any type.
-The bridge has to be able to reasonably span the water feature (no bridges going out to the middle of a lake for example)
-The bridge goes with you, when your game is up, the bridge comes up too.
I am totally serious. You are the only player with this ability at BBV. So sayeth the TO!
We have some really nice water terrain for this year so no complaining from JOO! :)
-Erik
Shimmergloom - April 11, 2012 03:37 PM (GMT)
lol.

I have a bought terrain bridge that is a little less than 7 orcs wide and 12" long from Pegasus hobbies.

Is that ok?

Also thanks.


khordale - April 11, 2012 05:59 PM (GMT)
That sounds great and you are welcome! :)

Maybe we expand the idea next year into a bridge building contest. Seems fun.

-Erik
Shimmergloom - April 11, 2012 06:35 PM (GMT)
Or just paint all your rivers brown and use them as dirt roads.
Necronbob - April 11, 2012 08:51 PM (GMT)
I hate steam tanks. Can I get some sort of special dispensation as well? Maybe I can bring a small box and put over any steam tanks on my tables?


-- Robert
Lanceocletian - April 11, 2012 09:22 PM (GMT)
Perhaps re-branding them for you as "Fun Tanks" that do D3 +XD3 str. 6 'fun hits'. Also equipped with a bubble gun and marshmallow cannon! It won't seem like the tournament is covered with panzer divisions with the new names and terminology.


Lanceocletian - April 11, 2012 09:43 PM (GMT)
My list actually has zero Fun Tanks!

*Also, 4 mournfangs plus dragon hide banner for the same cost is much much scarier than a steam tank.
Tekore - April 11, 2012 10:13 PM (GMT)
My list contains "Der Dickensjurmudder", a flying Steam Tank / Hydra / Razorgor that shoots Rivers and craps Rainbows. Upon its (unlikely) death, it spawns 3d6 Great Eagles, and also causes me to shed a single, golden tear. Robert, I grant you the concession that when we play, I shall grant you a blindfold to wear so as to not be forever broken as a wargamer...for it is said that no man can gaze upon the Stydragor and live.
Lanceocletian - April 11, 2012 11:54 PM (GMT)
Stydragor has nothing on Marcus' bridge laying Arachnarok and its goblin corp of engineers on top.
GrandAdmiralPaul - April 12, 2012 01:54 AM (GMT)
Robert,

I will lend you 2 heroic killing blow lords to feed on any steam tanks that come your way.

Paul
Necronbob - April 12, 2012 02:40 AM (GMT)
I'll admit to laughing out loud at the last five or six posts. Well played, men.
Shimmergloom - April 12, 2012 12:16 PM (GMT)
Well, I feel really bad about this. All I had asked was for rivers to either not be mysterious or if they insist on mysterious rivers, could they not have so many rivers covering nearly the entire board this year.

Erik told me that I was not causing problems, but I still feel like I am and that I am being singled out for a special rule does not make me feel good about it.

I'm not going to bring a bridge at all. I don't feel right about being the only person allowed to bring one. Especially since I didn't ask to be able to bring one, I just wanted less rivers in my Brawler bash suggestions.
Tekore - April 12, 2012 01:11 PM (GMT)
I don't think anyone was upset, bud. It's all good!
khordale - April 12, 2012 01:45 PM (GMT)
Ok, you guys are high-larious. :P

Marcus, seriously, you have never been a problem and I want you to bring a bridge! In fact, it is a rule that everyone can bring a bridge if they want one. You are no longer singled out; really it is no problem. :)

I'll send out an e-mail today letting everyone know that the impromptu "Brawler Bash Build-a-Bridge" contest is in for 2012!

This is fun people! I am telling you, the motto for 2012 BB is "laid back"

We have absolutely gorgeous river and water terrain. I am going to use it liberally! Bring a snorkel.

-Erik
Lanceocletian - April 12, 2012 03:01 PM (GMT)
Marcus-

I second Ben's thought. I don't think any of us were particularly worried about your O&G getting bridges- I actually envisioned a bunch of little goblins in hard hats frantically constructing something pre-battle.

As Erik motto states, I'm not stressing out too much about this event. I'm using it more as a chance to say hello to everyone and now play with Empire before infantry are horribly overpriced.

Lance


Tekore - April 17, 2012 01:09 PM (GMT)
Blech. Tuesday morning at work. I just want to cave your faces in at the Bash, not look at this spreadsheet!
Shimmergloom - April 24, 2012 12:49 AM (GMT)
Hey Erik, thanks for the great tourney.

Personally, I don't think I faced anything cheesy, despite there being no comp, not counting main rulebook magic.

I also liked the switch to 3k and think that all things considered the game does seem more balanced for 3k games now, which I had thought was just GW propaganda before. Now sure it's so they can sell more models, but at least it seems to me that the game balances better at 3k.

Now I have to spend the next year convincing Ben to make it 4k next year.