Welcome to Nintendo 5-Star! We always appreciate new members joining, yes, we do! :) But you know what would be even more fun? If you could join us in playing around in our forum! We're not as serious as you think, but let's get the serious stuff out of the way first. They're important though, so pay attention~
Okay, it's serious stuff, but we do have some rules here. It's to keep everyone happy around N5S. Please read through and abide by them~
N5S Rules & Regulations
--------------------------------------------------------------------------------------
Alright, now that that's out of the way, let's get you started! What do you wanna do first? Talk to us, of course! Speak your mind! We're not going to chew your eyes out or anything~
What do I do here?
It's a forum! Forums are places to hold discussions about any topic people can think of. In Nintendo 5-Star, the main area of focus will be on
videogames
, namely Nintendo games and consoles. Rest assured though, that's not all we talk about. We have boards for every purpose.
How do I start?
Making a topic in the Entrance Gates board!
Introduce yourselves to everyone at N5S. Make friends! We're always looking for another active person to join our ever-growing community. It's important to not be shy. That way we can get to know you more.
From there you're free to post messages in any of our boards. Remember to abide by our Rules and Regulations while you're at it~!
How do I post messages?
If you want to post a message in a topic, click the topic and read all the way to the end. If you have something to say, click..
and you'll be taken to a new page to type your message in. Here you can choose emoticons, font sizes, colors and other BBcode stuff. I'll cover some of that later on in another section of this guide~
Or, you can click..
and you can type your message on the spot! You'll need to memorize some BBcode if you want the emotes, colors and fonts though.
If you want to quote a post, click..
Or, did you make a mistake in your post? Don't worry, just click..
Want to make a new topic? Right at the top of the page, click..
Making a poll? Click..
All the buttons have their functions, so make sure you know them well~
I don't know what to post...
Don't be shy~ Click on any topic that catches your eye and if you have anything, ANYTHING at all to say, don't hold back. As long as you're within our rules, you'll be fine.
There's going to be a newbie topic section soon. I'll feature some topics that new members are guaranteed to have a say in. Look forward to it~!
How do I make friends around here?
By simply talking with us often. Right now we're a small, close-knit community, so if you keep coming back, we'll definitely recognize you. To get friends, you have to be a friend too~
Tell me about the buttons on top of the page, right under the banner.
They take you to different places associated with us. 'Home' takes you back to the forum index, or the front page. 'News' takes you to our news page. And I bet you clicked on the 'FAQ' button to reach this place, right~?
The 'Rules' button takes you to the topic containing our rules, the 'Links' button takes you to a page where you can navigate all of N5S' sites around the net, and the last button takes you to our blog~!
Ooh, a chatbox! Can I join in?
Just follow the instructions on the notice below. We're on Skype, just add our admin
toadster101
to your Contacts and he will handle the rest for you!
What's BBS and how do I use it?
BBS is the code language used by many forums. It's used to make bold, italic, underlined text, put in pictures, links and more.
To use BBS, you have to use the square brackets []
The following commands are basic ones Don't leave the spaces, I'm only doing that to show example!
[b ] text [/ b]
Bold
[i ] text [/ i]
Italic
[u ] text [/ u]
Underline
[url= website address] text [/ url] Making a link to another website
[img ] Image address [/img] Posting a picture
[s ] text [/ s]
Strikethrough
[color = red] text [/ color] Adding color (there's more than just red, you can get the codes for the other colors inside the Add Reply box)
You can also change font, font size and quote some text using the bbcode.
What are the names below my username/icon?
Post ranks~! You're given one star and a higher rank(with a different name) every time your total number of posted forum messages goes over a certain number. Here's the complete list
0- Goomba
25-Waddle Dee
75- Shy Guy
150- Pikachu
300- Bulborb
600- Kremling
1000- Moblin
1500- Metroid
2100- Pokemon Trainer
2800- Bounty Hunter
3600- Star Warrior
4500- Hero of Time
5500- Super Mario Bro
So you get 12 stars in total at 5500 posts. What? What do you mean the site's name only has 5 stars?
How do I add a sig/icon, or edit my profile?
Click on 'My Controls' on the top of the page.

Then, you'll see a lot of menus on your left. See the category 'Personal Profile'?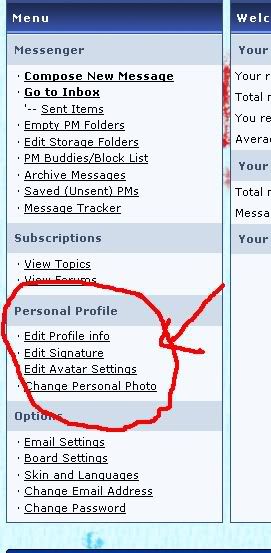 That's where you can customize your icon, signature, profile, and personal photo. Click on each one of them to start editing.
From here, click Edit Signature to type or put a picture for your sig~. Signatures can be up to 1250 characters long.
For icons/avatars, click Edit Avatar Settings and either upload a picture from your computer or link it over from Photobucket or something. We prefer the latter because this is a free forum, we only have so much server space~
There's a lot in your Control Panel, you can change your password if you want, or add your own personal message, all the basic features are there. If you need anything you want to personalize, it's all there~
Can I change my username?
Ah...that's the one thing you can't change on the Control Panel. Usernames are your own identity on the forum. You should try to get one username you like and stick to it. Like a tattoo. Of course, if you want to change it, and have a very good reason for wanting to, PM the admins and they'll handle the rest.
How do I send a Private Message(PM)?
It's nearly the same process as editing your profile. Back in 'My Controls', under the Messenger category.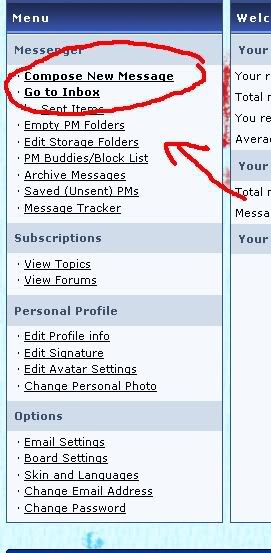 Reply to a PM or forward it by clicking 'Reply'/ 'Forward PM' on the bottom right corner.
If you want to send a new message to a person, just type out his/her username in the space provided.
Names are case-sensitive, so make sure you get every letter correct!
Nintendo 5-Star is divided into 14 different boards, each serving their own purpose. I'll explain them in brief here, but the only way to really find out is to go visit them~!
Entrance and Departures
You're on it right now! It's the introduction board, and the entrance to Nintendo 5-Star.
Site Discussion
All discussions about the site are kept here. Basically, topics that involve suggesting a new feature for the site, efforts to promote N5S, suggestions for a new activity or event and updates for the site belong here.
Sanctuary
The admin and mod only board. You need a password to enter, though don't expect any of us to say it out loud. Mods want personal space too you know.
Portal
A board for most of our news announcements.
---
Nintendo Gaming Discussion
The main board of Nintendo 5-Star! Discuss all Nintendo games and consoles here! This can involve talking about games from the NES era all the way up to the current generation of Wii and DS games. News on upcoming games or games conventions also fit into this board.
General Gaming Discussion
For everything else involved with gaming. You can talk about Nintendo's other competitors, including Microsoft and Sony, and their consoles. Or you could talk about aspects of gaming. Examples are 'favorite music', 'favorite stage', 'which game has the best graphics' kind of topics.
Online Play
All online gaming topics go here. Want to set up a match? Trade Friend Codes/Gamertags/PSN IDs? All here, please.
---
Media Room
A special board for everything to do with digital entertainment, be it movies, music, or TV shows. Just no games here- we already have three boards for that!
5-Star Library
Also an entertainment board, but for books and anything printed on paper, like magazines and comics.
Board and Card Games
Name says it all, as usual! It's for discussing board games and card games.
---
General Conversation
For general talks about real life and non-gaming topics.
Art Studio
Name says it all- a gallery. It's for you to put up your creative works to show off to the rest of us. Fanarts, fanfics, RPs(small ones), music mixes, and others like it go here. If you've made a new icon or sig you can also post them in a new topic and get feedback here.
Event Center
The forum games and events board. Some of the competitions here involve prizes and most are pretty fun to get into, so make sure you don't leave this board out!
Garden of Sinners
The Random board. The only board where 90% of our rules are void, for good reason~
Who are the admins and mods?
We are the staff members who run Nintendo 5-Star and make sure everything is in order.
As of November 2011, the current list of admins and mods are:
Admins: Destiny Guy, pikaby, toadster101
Mods: Pokefreak113, CRAZ1ah, johnny139, TheFreakyManga, Crossburn
Want to learn more about us?
Come here~!
We encourage you to get close to us, heck, say anything you want. Just don't flame. We want you not to be shy.
Mods have custom post ranks set by ourselves. Want one? You'll have to wait until a forum event is underway to earn one, or you can set up your own forum event with a custom rank as a prize(we'll take care of that)
I like the forum events, but I want to start my own. Can I?
Certainly. Just
PM the admins
and tell them. They'll be more than happy to make a separate board to accomodate your event.
What are the prizes involved for joining in a forum event?
Now you're talking. Some of the activities and games have prizes for them such as fanart, custom titles, and you can even get to request your own emoticon for the forum!
The site is designed really well!
You're not the first one to say that. Most of the site's re-skinning works are done by pikaby, the admin. There's still a few issues to work out. If you want to suggest a small change be our guest.
How do I become a mod?
Don't get your hopes up. Be an active poster but also try to contribute in other ways. Show intelligence and judgement, and be helpful to other users, but leave the moderating to the mods. Be vocal about the forums as well as their changes and features. Don't pester admins about becoming a mod, and that will raise the chances of you actually being considered for one.
What in the world is DG's mom?
DG's mom is only one part of our rich history of inside jokes(memes). It involves Destiny Guy's mom for no apparent reason. Here's what I think how it started.
Destiny Guy: asks a question
toadster101: Ur mom
Member: DG's mom
It may not be that simple though~. To get to our full list of memes, it's the
sticky topic
in the Castle Rooftops.
You're cute! Who are you?
*blush* My name's V~! Nintendo 5-Star's mascot character, also designed by admin pikaby! I've been given the task to host the FAQ on the site and the blog too.
pikaby made a blog about me and all my details are
here
, so go see it~!
Have fun, everyone!