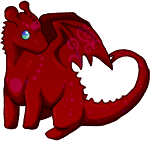 M'kal didn't know what to think of the Greens and Reds who joined the Glory Wing every so often. He thought maybe he they could serve Threadfall better by running sacks of stone or agenothree tanks to the Queens. Then again, he was probably scornful because he was jealous of their swollen bellies. Which was weird and awkward and something the Ruby Rider would never admit to himself. Khaerisseth hissed and shifted beneath him, bringing the Queen Rider back to focus. He cocked the sprayer, and rechecked the nozzle once more. It was fine, but it never hurt to check more than once...
They waited eagerly for Akayla's signal, watching the wings layer out. It was beautiful, seeing all the dragons of Libertas on the wing, coloring the sky many shades of Green,Blue,Brown,Bronze, Platinum, Black and Red. There were a few distinctive hides he kept a careful eye on: One the palest and smallest Blue of Libertas Weyr, the other a warm, red-bourbon Brown with stripes, The other a very distinctive and fiery Red. His friends and his lover. All were helping in their own way today. Whether it be by catching the fallen, throwing sacks of stone, or searing the menace itself. All were important, and all should be inside the walls of stone safe and sound. Tello and A'vayal were so high up! And little T'ris running stone to needy Riders, what if he got caught unexpected by a missed clump?
No time to worry now, it was time to focus. The signal had been made and the Queens were springing aloft, winking
between.
The appeared not far from the weyr, the silver curtain drawn and approaching. The fall looked thick. This would be a gruesome battle today. Hovering took a bit of effort on Khaerisseth's part and her muscles tensed worryingly. M'kal patted her crimson shoulder, tense and waiting. Because that was all he could do right now. Sit and wait for Thread to fall.