Chapter 13 - First Contact.
Jerry: Wanna rip off any more movie titles? Seriously, is the next chapter going to be called "Frieza: The Phantom Menace?"
An hour had passed since the battle with Shego and the bee-bee bot's, everyone had recovered thanks to some sensu beans provided by Ron. While most of the resistance were resting Kim, Wade, and Ron were all in the briefing room.
Mike: And we were still here not caring.
Kim: "Bardok, how many of those beans do you have left?"
Ron lifted the small beg upside down and emptied the contence into his hand.
Ron: "Two, no way near enough to help the entire resistance again"
Trent: Wow, congratulations dick hole, you can do simple fucking math.
After putting the sensu beans away Ron looked over the main monitors which was replaying the battle.
Ron: "I don't get it, in my world the I've gone up against the Bee-Bee bots twice and they were not that strong…"
Kim: "These one's are a combination of Drakken's technology and Dr Gero's technology"
Zack: Sure, why not?
Wade stepped forward and spoke with a very deep voice.
Sam: *Barry White* Hey baby, let's lay down by the fire. Ooooh yeaaah.
Wade: We've been trying too find some weakness to exploit in the Bee-Bee bots, but they're hacker proof"
Ron thought for a moment.
Ron: "What about a jamming signal?"
Brad: It's the radar sir! It's been jammed!
Jerry: *Dark Helmet* Raspberry…only one man would dare give me the raspberry! Lone Star!
Everyone looked at him in confusion
Ron: "In my world the Bee-Bee bots operated with a wireless system, we were able to incapacitate them by broadcasting an ultra high frequency signal"
Jess: What the hell? Since when does he understand tech stuff?
Lauren: God's way of compensating.
Jess: But he's an idiot!
Lauren: *shrug* The author sucks.
Jess: That works.
Suddenly Wade's eyes widened in realisation
Wade: "OF COURSE! WHY DIDN'T I THINK OF THAT?"
Mike: Because you're not the Gary Stu in this fic now are you?
With that Wade ran to the closest terminal and started working on something.
Looking to the side Ron noticed a rack of guns on the wall.
Ron: "What good are guns against this enemy?"
Sam: Trigger Happy!
Zack: Trigger Happy!
Jerry: Got an AK-47, well you know it makes me feel all right!
Trent: Got an Uzi by my pillow, helps me sleep a little better at night!
Brad: There's no feeling any greater
Mike: Than to shoot first and ask questions later
Jess and Lauren: Now I'm trigger happy, trigger happy every day!
Kim stepped forward to answer
Kim: "Those guns are called Ki rifles and are equipped with Ki dampening Chips, they can even kill a super Saiyan, but we can never hit or enemy's, there way too fast"
Mike: …Laaaaaaaaaaaaaaaame!
Deciding to go back outside for some fresh air, Ron turned around and exited the room.
As Ron was walking down an empty hallway he heard footsteps and turned to see Kim had followed him.
Ron: "Can I help you?"
Lauren: I doubt it.
Kim: "….Y-you said to Shego to tell Zorpox… "his past has come back"….Who are you?"
Lauren: Is she retarded?
Trent: Well they do say sometimes characters take after their creators.
There was a pause before Ron started to speak.
Ron: "….I …."
Before Ron could answer a loud alarm filled the hallway along with flashing red lights.
Ron: "What's going on?"
Suddenly Wades voice came from a speaker mounted on the wall.
Wade: "KIM, GET BACK HERE NOW! HE'S HERE!"
Zack: Oh my god, stop writing in all fucking caps!
Kim's eyes widened in shock as she sprinted down the hall back towards the briefing room followed closely by Ron.
The sliding doors to the briefing room opened smoothly as Kim and Ron entered the room.
Wade: "Look, the monitors…"
Brad: Look a penny!
Kim walked to the side towards the security monitors and she couldn't believe what she was seeing and neither could Ron.
Jess: An intelligent plot twist?
Displayed on the monitor was a grown man standing alone in a court yard with his arms crossed, he had black hair and blue skin, he wore very tight black clothes, but Ron recognised the man immediately, his cloths had changed but it was definitely Zorpox.
Sam: Wait, he spelled "clothes" right and then in the same sentence he spelled it wrong again! What is this guy's problem!?
Mike: Wow, you have to try to be that stupid.
Ron: "What's he waiting for?"
Ron turned to find tears running down Kim's face.
Lauren: Yeah, if I was in this fic I'd be crying too.
Kim: "I'm going out there"
Hearing this Wade jumped up from his chair.
Brad: *Wade* I sat on a tack!
Wade: "NO! You know what happened last time!"
Kim recoiled as a painful memory repeated in her head.
Wade: "This time we all go"
Mike: I guess we won't find out what the memory was.
Trent: Do you really care?
Mike: No.
A few minutes later the entire resistance armed with Ki rifles had charged into the courtyard outside there base and were now ready to blast Zorpox, Zorpox however hadn't moved, Kim stepped away from the group and slowly approached Zorpox.
Jerry: Repetition, in writing it looks awful!
Kim: "What are you doing here?" Kim asked with a harsh tone only to be answered with a creepy smile.
Zack: *Zorpox* I'm here to rape you!
Zorpox: "Well, I heard you had a new fighter, one that destroyed Four of my Androids in an instant, so I though I'd come and meet him, I'm sure you wont mind, will-ya KP?"
Ron could hear Kim's teeth grinding
Brad: That's a bad habit.
Kim: "D-don't call me that, that was his name for me, AND YOU ARE NOT HIM!"
Jess: Uh, what?
Without warning Kim jumped a few meters back and threw an energy blast directly at Zorpox, Ron noticed a smile on his lips a moment before the blast hit him.
Sam: Gee, I wonder if that's not gonna work.
As the smoke cleared everyone saw a black blur shoot from the smoke, and before they knew it Zorpox was holding Kim up by her throat with one hand.
Sam: Wow, so surprising.
Zorpox: "Haha, how many times do we have to go through this? You cant beat me KP"
Trent: *Zorpox* My terrible spelling and grammar will defeat you any day!
Kim let out a loud choke as Zorpox tightened his grip.
This is when Ron decided to step in,
Lauren: This is where I decided to continue to not care.
he disappeared from his spot and reappeared at Zorpox's side and delivered a powerful kick to Zorpox's head forcing him to drop Kim and sending him skidding across the courtyard.
As Zorpox picked himself up he looked to see a man covered by a cloak standing between him and kim.
Trent: Hey another Anime cliché!
Zorpox felt something dribble from his lip, he rose his hand to touch his lip and when he looked at his hand he saw a crimson liquid.
Zack: There are so many things wrong with that sentence.
Jerry: See if you, the reader, can spot them all!
Zorpox: "Haha, its been a long time since I've seen my own blood, you'll pay for that"
Sam: Cash or credit?
Zorpox and Ron were now in the centre of the courtyard facing each other.
Zorpox: "So, you must be the new fighter, I heard you were looking for me"
Mike: I'm not looking for you.
Brad: What are you looking for?
Mike: I'm lookin' for a fox! Heh, heh, heh!
Ron: "Yes, I came here to beat you"
Trent: Add "off" to the end of that.
Zorpox had a nasty smile on his face
Lauren: Hahahaha, wow, that really fits with Trent's comment.
Zorpox: "Well then, lets play"
Trent: As does that.
Without warning both Ron and Zorpox disappeared.
Everyone looked around for a moment trying to find them, they could hear sounds from the battle but nobody could see them.
Zack: Yay another generic Anime cliché.
Kim: "What the? Where are they?"
Kim turned to trunks who seemed to be watching something in the air.
Kim: "Trunks, can you see them?"
Jerry: *Trunks* Well I'll tell you what I don't see, and that's you in the kitchen making me a sandwich bitch.
Trunks didn't turn his attention away from what he was looking at but just nodded.
Trunks: "They are moving too fast for you to see naturally, You have to concentrate, use what I taught you"
All 8: Laaaaaaaaaaame.
Kim looked up into the air and started to concentrate, her eyes widened as she caught a glimpse of something.
Kim: "T-there! I see them"
It was the most amazing thing she had ever seen, they were punching each other so hard that every blow that connected caused small shockwaves.
Mike: Booooooooooooooooooooooooooooring!
Suddenly Zorpox flew high and delivered an axe handle right on Ron's back causing him to plummet back to earth.
As Ron hit the ground the entire resistance fell from the shockwave.
Sam: Either that or they passed out due to boredom.
even though Zorpox had hit him hard,
Trent: *Beavis* Heh, heh, you said "hard."
Ron immediately got back up, he was about to take off again when he saw Zorpox throw a large red energy blast at him from above, thinking quickly Ron put his arms up in front of him to block the blast, as the blast hit him there was a huge explosion.
Everyone waited in fear as the dust started to settle, when it finally dissipated Ron was still standing but with one difference, his cloak had been almost completely destroyed, there was just a few rags left that only covered half of his face and every member of the resistance were trying to make out his face.
Jerry: So god damn lame.
Deciding that he would never be able to keep the rag on during the fight Ron came to a decision.
Ron: "Oh well. They would have figured it out sooner or later"
Jess: Sooner or later
You're gonna come around and you'll be sorry
When you figure out
Lauren: That I was always everything that you needed
Sooner or later you're gonna wish you had me
Both: Yeah, you're gonna wish you had me.
Everything seemed to move in slow-motion as Ron grabbed the cloak and ripped it right off his body.
Trent: Anime cliché number…oh who cares, it's stupid.
Everyone in the courtyard recognised him immediately.
Kim: "I-it cant be!"
Sam: Anime cliché.
Brad: New game!
Meanwhile Ron was busy stretching his muscles.
Jerry: What muscles? He's a scrawny little shit.
Ron: "Ahhh, much better" then ron looked down only to find a huge hole in his armour.
Jerry: 1: Cut a hole in a box
2: Put your junk in that box
3: Make her open the box.
Ron: "Oh man!" Ron moaned
Zorpox landed not to far away from Ron
Zorpox: "What the hell is this? Some kind of trick?"
Brad: *Abridged Nappa* But Vegeta…Trix are for kids!
Ron smiled at Zorpox as he checked his strap on his sword
Zack: Heh, strap on.
Ron: "Nope, no trick, I'm you from the past, the names Ron Stoppable but I'm sure you already knew that didn't ya"
Lauren: So freaking stupid.
Zorpox however was very confused.
Zorpox: "Grr, I need to re-evaluate this situation, we'll meet again"
With that Zorpox shot into the air and flew towards the horizon.
Ron: "Ok, now I know that's not me, I would never use the word re-evaluate in a sentence don't you…..oh boy"
Jess: Ugh, so fucking bad.
As Ron turned he saw everyone were now aiming ki Rifles directly at him, that's when Will Du spoke up while aiming his gun at Ron.
Will: "YOU SEE! I KNEW HE COULDN'T BE TRUSTED!"
Trent: NOW FEAR MY ALL CAPS SPEAK!
Ron was getting very annoyed at Will.
Ron: "Why is there always someone like you in a crowd? And we already had the conversation about the gun haven't we"
Suddenly Ron heard another click of a gun, Ron turned too see Kim standing up and aiming a rifle at him.
Lauren: Shoot him! Shoot him!
Kim: "Y-you, its all your fault!" tears were running down Kim's face
Brad: I have no idea what is going on and I don't care.
Slowly Ron walked towards Kim and stopped when the barrel of the gun was less than an inch away.
Without warning Ron grabbed the barrel of the gun and pulled it up to his own chest.
Sam: Wait what?
Ron: "Go ahead…"
Zack: Du it yohaus.
This statement took Kim aback
Kim: "W-what?"
Brad: Shoot him!
Suddenly Ron started shouting
Ron: "IF YOU TRULY BELIEVE THAT KILLING ME WILL CHANGE ANYTHING THAT HAS HAPPENED HERE THEN SHOOT!"
Trent: I AM SHOUTING!
Kim kept hesitating and still did not shoot, after a moment Ron pulled the gun out of Kim's hands and threw it to the floor
Ron: "Then stay out of my way. I have a fight to get ready for."
With that Ron walked past Kim and entered the base.
Zack: He put his dick in the base.
One day later
Jerry: It's been one week since you looked at me
Trent: Cocked your head to the side and said I'm angry.
Both: Five days since you laughed at me
Brad: Saying get that together come back and see me.
Sam: Three days since the living room
Both: I realized it's all my fault, but couldn't tell you
Zack: Yesterday you'd forgiven me
Mike: But it'll still be two days till I say I'm sorry.
Kim had had a chance to recover from the battle yesterday, she had spent most of her time locked inside her room looking over old photo's of her and Ron before he became Zorpox. Finally deciding to go out for some fresh air she walked out of the room with a picture in her hand.
Jerry:
Living my life in a slow hell
Different girl every night at the hotel
I ain't seen the sun shine in three damn days
Been fuelin' up on cocaine and whiskey
Wish I had a good girl to miss me
Lord I wonder if I'll ever change my ways
I put your picture away
Sat down and cried today
I can't look at you
While I'm lying next to her
I put your picture away
Sat down and cried today
I can't look at you while I'm lying next to her
Ooooooooooooh!
Lauren:
I called you last night in the hotel
Everyone knows but they won't tell
But their half-hearted smiles tell me something just ain't right
I've been waitin on you for a long time
Fueling up on heartaches and cheap wine
I ain't heard from you in three damn nights
I put your picture away
I wonder where you've been
I can't look at you while I'm lying next to him
Ooooooooooh!
I put your picture away
I wonder where you've been
I can't look at you while I'm lying next to him
Ooooooooooh!
I saw you yesterday with an old friend
Jerry:
It was the same old same how have you been
Both:
Since you've been gone my world's been dark and grey
Jerry:
You reminded me of brighter days
Lauren:
I hoped you were coming home to stay
I was headed to church
Jerry:
I was off to drink you away
Both:
I thought about you for a long time
Can't seem to get you off my mind
I can't understand why we're living life this way
I found your picture today
I swear I'll change my ways
I just called to say I want you to come back home
ooooooooo
I found your picture today
I swear I'll change my ways
I just called to say I want you
To come back home
I just called to say I love you
Come back home.
Jess: Wow.
Meanwhile Ron was busy getting ready for his fight, now that he ad lost His Saiyan armour he had to fid something to replace it, he was now in the armoury trying too find something that would fit him.
Trent: How about a shirt?
Ron: "No, no, too big, to small, too colourful, Argghhh, there has to be something in this place."
Suddenly Ron heard the door behind him open, Ron turned quickly to see Wade enter the room.
Wade: "Hi Bardok, or should I call you Ron."
Brad: You can call me Ray, or you can call me Jay, or you can call me Ray Jay.
Ron sighed before speaking
Ron: "Before you say anything, it was trunks idea to keep who I was a secret Ok, anyway how come you're acting so casual around me"
Mike: *Wade* Because I don't care about anything.
Wade answered only with a blank stare, although they didn't know Kim had passed the door and was now eavesdropping.
Wade: "What do you mean?"
Ron: "You're the only one in this place who isn't giving me dirty looks, well you and Yori"
Wade smiled as he looked at Ron
Wade: "Haha, Did you forget how smart I am? I know that you and Zorpox are two different people Ron and sooner or later everyone else will figure it out as well"
Lauren: Yay, a sane person.
Ron smiled
Ron: "Thanks Wade, So what happened to you? Last time I saw you, you wouldn't come out of your room and now your out in the open and you're a giant!"
Trent: Puberty, it's crazy.
Wade: "What can I say, I had a growth spurt, so what are you doing?"
Ron looked to the side at a huge pile of rejected clothes
Ron: "Ugh, that last blast from my other self kind of obliterated my armour, I was looking for some replacement clothes
All off a sudden an idea sparked in his head.
Sam: Stupid idea off the port bow!
Wade: "I have just the thing"
Zack: In my pants!
With that wade got up and walked over towards a small cabinet with a electrical lock and punched in a five digit code, suddenly the closet opened revealing a set of clothes. When he saw them Ron's eyes widened in excitement.
Ron: "You've got to be kidding me!"
There hanging in the closet was a perfect copy of the clothes worn By the character Cloud Strife in the movie Final Fantasy VII : Advent Children. From the Drape's over the Right arm and leg, to the silver lion head on the right shoulder plate.
Jerry: Oh you've got to be fucking kidding me.
Sam: Wow…that's…that's horrible.
Trent: My hatred for this author just increased to infinity and beyond.
Wade: "The Ron from this world asked me too make these for him before he became Zorpox…. I never had the chance to give them to him, I think he would want you too have them"
A few minutes later Ron had changed into his new clothes and was now admiring them in the mirror.
Sam: So freaking lame.
Ron: "Awesome, Oh Pan is going soo be so jealous"
Wade looked confused
Wade: "Pan? Who's that?"
Jess: A poorly written character.
Ron: "Oh sorry, in my world Pan is my girlfriend"
Kim's breath suddenly caught in her throat.
Wade: "Umm, I don't remember anyone called Pan"
Ron: "That actually makes sense, in my world Pan is Gohan's daughter but in this world Gohan was killed, so that means Pan was never born in this world"
Mike: Well isn't that special?
Wade: "Well then what about Kim?"
Ron looked at wade before pointing at his own cheek and wade noticed three thin scars.
Lauren: I still don't get how he got scars from her freaking scratching him with her damn nails.
Ron: "See these? In my world Kim gave me these and then kicked me out of Team Possible, indecently that was the same day that Monkey Fist killed my parents and also the first time I transformed into a super Saiyan, anyway after that I was taken as a student by trunk's farther, everyone else I know think I'm dead, so me a Kim aren't on the best of terms in my world"
Zack: I swear the grammar just committed suicide about halfway through that sentence.
Wade and Kim let out a breath as Ron came to the end of his little story.
Ron: "Why? What happened between me and Kim in this world?"
Trent: Something stupid.
Wade suddenly looked nervosa
Mike: Nervosa? What the hell?
Wade: "Well you and she…. Umm.."
Now it was Ron's turn too get nervous
Ron: "Wade, spit it out"
Deciding that she had heard enough Kim turned and walked down the hall not noticing as the picture she had been carrying dropped from her hand.
Zack: How do you not notice that?
Wade took a deep breath as he told Ron the truth
Wade: "Ron, In this world, You and Kim are Married…"
Brad: Hahahahahaha!
Lauren: Wow, must've been a marriage out of pity.
As the picture floated to the floor it landed in the light revealing two figures in the photo.
Ron Stoppable in a Black tux and Kim Possible in a wedding gown.
Jess: What you don't see is the gun behind them as they are forced into this marriage.
To be continued…..
Zack: Crap.
Whew, this one took longer than expected.- Please Review and tell me what you think of they story so far.
Brad: It sucks.
PS:- COMEING SOON- RON'S ASCENSION TO SUPER SAIYAN 2!
Trent: Uh, thanks for giving that away dumbass.
Chapter 14 - Calm Before The Storm
Sam: The crap before the garbage.
It had been two days since Ron had arrived, and after some much needed rest everyone was in the briefing room planning the attack on Zorpox. Ron and wade had been up most of the night discussing the attack.
Jerry: If that's what you wanna call it.
Everyone was seated around a holographic projection of West city, in the centre of the hologram was a huge dark building surrounded by a strange bubble shaped barrier. Wade had told Ron about the fortress where Zorpox resides, there are turrets everywhere, the outer building is patrolled by hundreds off Bee-Bee bots, and to top things off, around the tower there was an energy barrier that disables there ability to fly.
Trent: Plus it causes the fic to randomly switch tenses.
Wade: "…..So after we reach the city, a small team will attempt to breach the outer defences and enter the fortress from these tunnels under the tower….."
Brad: I think they'd be better off breaching the DEFENSES you illiterate dumbass.
At this Yori stepped up
Lauren: Who is that?
Jess: Who cares?
Yori: "What of the barrier, while inside we cannot fly…."
Ron now stepped forward
Mike: Good for him.
Ron: "Wade told me all about the barrier, we're gonna have to run the surface to the tunnel entrance, no flying"
Brad: Didn't the previous character just say that?
At this everyone looked at Ron as if he was crazy
Bonnie: "…Are you suicidal? We cant fly in there but the androids can, we'd be mowed down"
Trent: Why can't they fly there?
Jerry: Who cares?
Wade suddenly reached into a bag at his side and pulled out a familiar small devise.
Kim: "Hey! My old Kimunicator"
Sam: I'm not that bad!
Lauren: Agreed.
Wade: "Thanks to the information Ron brought back from his world I was able to make some modifications to a bunch of the old Kimunicator's, they can now broadcast an ultra high frequency jamming signal, they'll permanently disable any android that gets close"
Mike: Thank you Deus Ex Machina.
Ron: "Even though we can get past he androids we still need to be careful of the Turrets, that's why I'm only taking the fastest with me, so, I need volunteers, but I am warning you now, there's gonna be one speed, Mine, so if you cant keep up don't step up, you'll just die"
Zack: Don't sugarcoat it buddy.
At first no one said anything, until trunks stood up
Trunks: "I'm going…."
Next to stand up was Kim
Jess: *Kim* I broke the dam.
Kim: "I have to go"
Shortly after Kim, Yori stood.
Lauren: *Yori* I broke the dam.
Yori: "I shall go"
Not a second later Steve Barkin stood and saluted Ron
Mike: *Barkin* I broke the dam.
Barkin: "Ready for deployment!"
Ron: "Ok then, the rest of you will hide outside for us to disable the barrier and defences, we leave in one hour, suit up"
With that everyone got up and walked out of the room to prepare for the battle ahead.
Zack: Well that was the dumbest plan in the history of plans.
West City - Zorpox's Tower.
In the very centre of the ruins of west city Stood a colossal tower and on the very top floor in a huge chamber sat the self proclaimed ruler of this land, and before him stood his four generals.
Jerry: Tweedle Dee, Tweedle Dum, Beavis and Butthead.
At one point, all of his generals had once been his enemys.
Lauren: Sounds like they're completely trustworthy.
Sam: But if they were his enemies then…
Lauren: Completely trustworthy.
Mike: But what if they turn on him and…
Lauren: COMPLETELY TRUSTWORTHY!
Sam and Mike: Completely trustworthy.
Lauren: Good boys.
The weakest of his generals was his old Camping buddy Gil….. Or "Gill" as he is now called, due to the toxic water of the lake he had been transformed into a hideous creature, however since then Zorpox had given him some genetic manipulation to make him stronger.
Zack: I see what you did there!
Trent: Actually it's more like I see what Disney did there.
Then there was his old rival from Yamanuchi known as Fukushima,
Brad: Oh Fuku you.
Jerry: Fook Mee, Fook Yu.
he had received extensive ninja training and was now able to control his Ki and channel it into his ninja skills, making him a cunning fighter and a deadly assassin.
Jess: As well as a half assed character.
Next was the old evil…. (And I use this term loosely) .. "Genius", Dr Drakken, he wasn't match of a fighter until Zorpox gave him a little genetic manipulation, and now he had more than enough power and body mass to stand his ground against any foe.
Brad: What the…did he just throw in an Author's comment?
Jess: Yes.
And finally there was Zorpox's best fighter and lover, Shego.
Mike: Um…is she even hot?
Jerry: Picture!
VincentX: Wow, I have found some random fucking pictures.
Jess: Porn?
VincentX: Some are borderline, but here's a normal image: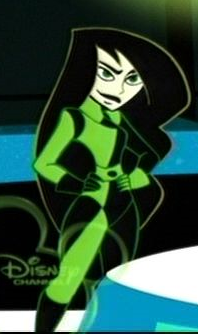 Lauren: Well at least she's environmentally conscious.
Trent: What?
Lauren: She's green.
Trent: Ugh, that was terrible.
VincentX: Now check out the wacky fan art…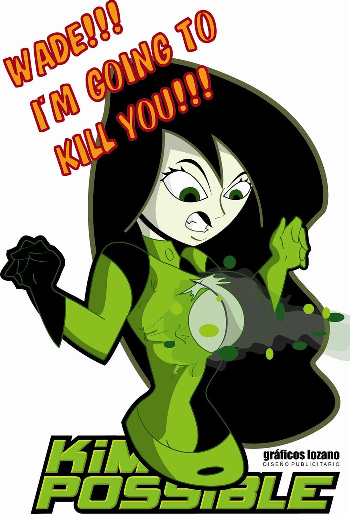 Mike: I see what you mean by "borderline."
Jess: That is so freaking wrong.
VincentX: And just because it'll invoke a song…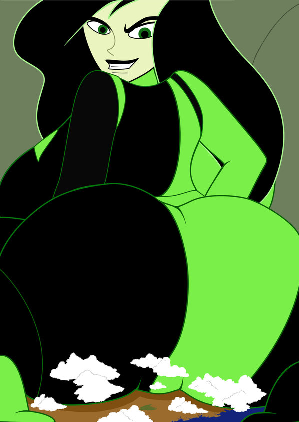 Lauren: Oh my god
Becky, look at her butt
It is so big
She looks like one of those rap guys' girlfriends
Who understands those rap guys
They only talk to her because she looks like a total prostitute, ok
I mean her butt
It's just so big
I can't believe it's just so round
It's just so out there
I mean, gross
Look, she's just so black!
Trent:
I like big butts and I cannot lie
You other brothers can't deny
And when a girl walks in with an itty bitty waist
And a round thing in your face
You get sprung
Wanna pull up tuff
Cuz you notice that butt was stuffed
Deep in the jeans she's wearing
I'm hooked and I can't stop staring
Oh, baby I wanna get witcha
And take your pictcha
My homeboys tried ta warn me
But that butt you got
Makes m-m-me so horny
Ooh, rub that smooth skin
You say you wanna get in my benz
Well use me use me cuz you ain't that average groupy
Mike:
I see her dancin'
To hell with romancin'
She's Sweat, wet, got it goin like a turbo 'vette
I'm tired of magazines
Saying flat butts are the thing
Take the average black man and ask him black
She gotta pack much back
So Fellas
Jerry and Sam: Yeah!
Mike: Fellas!
Brad and Zack: Yeah!
Mike: Does your girlfriend got the butt?
Jerry and Sam: Hell yeah!
Mike: Tell 'em shake it!
Brad and Zack: Shake it!,
Mike: Shake it!
Other 5 Guys: Shake it!
Mike: Shake that healthy butt!
Baby got back
Zack: LA face with the Oakland booty!
Mike: Baby got back
Jerry: LA face with the Oakland booty!
Trent:
I like'em round and big
And when I'm throwin a gig
I just can't help myself
I'm actin like an animal
Now here's my scandal
Mike:
I wanna get you home
And UH, double up UH UH
I ain't talkin' bout playboy
Cuz silicone parts are made for toys
I want em real thick and juicy
So find that juicy double
Mixalot's in trouble
Beggin' for a piece of that bubble
So I'm lookin' at rock videos
Knock kneed bimbos walkin' like hoes
You can have them bimbos
I'll keep my women like Flo Jo
A word to the thick soul sistas
I wanna get with ya
I won't cuss or hit ya
But I gotta be straight when I say I wanna UH
Til' the break of dawn
Baby Got it goin' on
Alot of pimps won't like this song
Cuz them punks lie to hit it and quit it
But I'd rather stay and play
Cuz I'm long and I'm strong
And I'm down to get the friction on
Trent: So ladies!
Lauren and Jess: Yeah!
Trent: Ladies!
Lauren and Jess: Yeah!
Trent: Do you wanna roll my Mercedes!?
Lauren and Jess: Yeah!
Trent:
Then turn around
Stick it out
Even white boys got to shout
Baby got back
Baby got back
Mike:
Yeah baby
When it comes to females
Cosmo ain't got nothin to do with my selection
36-24-36, ha ha
Only if she's 5'3"
Trent and Mike:
So your girlfriend rolls a Honda
Playin' workout tapes by Fonda
But Fonda ain't got a motor in the back of her Honda
My anaconda don't want none unless you've got buns hun
You can do side bends or sit-ups, but please don't lose that butt
Some brothers wanna play that hard role
And tell you that the butt ain't gold
So they toss it and leave it
And I pull up quick to retrieve it
So cosmo says you're fat
Well I ain't down with that
Cuz your waste is small and your curves are kickin'
And I'm thinkin 'bout stickin'
To the beanpole dames in the magazines
You ain't it miss thing
Give me a sista I can't resist her
Red beans and rice didn't miss her
Some knucklehead tried to dis
Cuz his girls were on my list
He had a game but he chose to hit 'em
And I pull up quick to get with 'em
So ladies if your butt is round
And you wanna triple X Throw down
Dial 1-900-MIXALOT and kick them nasty thoughts
Baby got back...Baby got back
Jerry: Little in the middle but she got much back!
Zack: Little in the middle but she got much back!
Brad: Little in the middle but she got much back!
Sam: Little in the middle but she got much back!
VincentX: So that was fun.
Lauren: Hahahaha.
VincentX: And finally, this one is actually pretty freaking cool.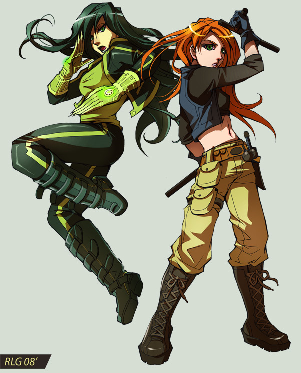 Sam: Holy crap.
Trent: Dear lord that's freaking awesome.
Jess: Wow...
Her natural fighting ability worked perfectly with her ability to channel her Ki, plus there was the added element of her Powers to add to her fighting arsenal.
Zack: She also had the biggest butt ever.
Zorpox was standing at the window leading to the outside, he stared intensely out onto the horizon as he felt several strong power signals heading towards the city.
Zorpox: "They're coming"
Brad: That's what she said.
Zorpox turned to his generals.
Zorpox: "It is time, they'll try to enter the tower through the old tunnels, that's where you will stop them"
Shego looked at Zorpox with a look of confusion
Zorpox: "Gill, for the last few months you have failed me time and time again, this is your final chance, go to the tunnels, wait for them and kill them, if you fail me again, I'll destroy you myself"
Sam: Oh no, an evil villain threatening to kill his minion if he makes "one more mistake?" I've never, ever, seen that before.
Brad: The sarcasm is strong with this one.
Gill had a look of terror on his face but was still able to nod. Before running out of the room, however as soon as he was out of sight a look of anger crossed his face.
Gill's Mind: "Someday Squeeb! Someday!"
Jerry: Nothing's wrong
Just as long as you know that someday I will
Someday, somehow
I'm gonna make it alright
But not right now
I know you're wondering when
You're the only one who knows that
Someday, somehow
I'm gonna make it alright
But not right now
I know you're wondering when.
Zorpox then turned to Drakken
Zorpox: "Follow him, if he fails destroy him and then destroy them"
Drakken bowed to Zorpox briefly and slowly walked out after Gill.
Mike: Love this riveting dialogue.
Fukushima stood at attention ready to receive his assignment
Zorpox: "Fukushima, wait by the exit of the tunnels, if they get through Gill and Drakken, I want you too take care of it, oh and….. Do try to take my darling wife out of the equation, once and for all"
Jess: Uh, you do realize there's this thing called "divorce" right?
With a sadistic smile Fukushima leaped up into the air and disappeared into the rafters.
And finnaly Zorpox turned to Shego.
Shego: "What about me?" Shego asked with a seductive smile which Zorpox returned
Trent: *Zorpox* Shake that ass baby!
Brad: …SHEGO'S ASS!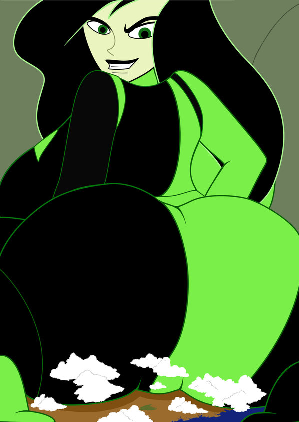 All 8: BUM BUM!
Zorpox: "I want you too stay up here, if they get this far it will be up to you"Shego smiled and walked up to her lover.
Shego: "I wont let them near you"
With that said Shego pulled Zorpox into a steamy kiss.
Zack: Ugh, that's so terrible.
Jerry: You know the saying "match made in hell?"
Zack: Yeah.
Jerry: That's a match made in Satan's ass.
One hour later
All 8: AT THE HALL OF JUSTICE!
It had been almost half an hour since the resistance had arrived at west city.
Ron couldn't believe what he was seeing, the entire city was in ruins.
Jess: Ruins in a ruined future!? Holy shit!
The only building left standing was the tower in the centre of the city.
Mike: Someone's compensating for something.
The resistance had taken position near the barrier as the small five man team prepared to storm the tower.
Ron: "Ok, this is your last chance to back out, once we're in the barrier we go forward or we die, there is no going back"
Trent: Because this has never been done before.
Ron looked up waiting for a reply.. There wasn't one.
Zack: Wow, I'm so shocked.
A moment later they were ready, they were about too enter the barrier when suddenly the ground started to shake.
Ron: "WHOA, WHAT THE?"
Brad: Apparently the ground shook so much it made the author hit Caps Lock.
As they looked forward they couldn't believe what they were seeing, the ground inside the barrier was moving upwards, it kept rising until it was at least a good 200 meters high and then it suddenly stopped leaving a gigantic cliff in front of them.
Sam: You shall not pass!
Everyone looked at it in confusion for a moment before they realised what had happened.
Lauren: The author took crack?
In order to get too the tunnels they would now have to scale the side of the cliff.
Jerry: I foresee stupid zany antics!
After a few minutes of thinking Ron turned back too face his team.
Ron: "I'm still going, if you wanna change your mind do it now"
Jess: Didn't he just say that?
Mike: You underestimate the power of crappy writing.
Without waiting for a reply Ron turned and walked towards the barrier and stopped just short of touching it.
He was shortly joined by Trunks, Kim, Yori and Mr Barkin.
Ron looked at all of them and nodded and they all in turn nodded back.
Sam: This moment of pointlessness brought to you by the movie Alone in the Dark. Wouldn't you rather watch that instead of read this crap?
Ron then looked dead ahead and suddenly realised what was gonna happen.
He was about to take on his first REAL enemy as a Z fighter, and with this in mind ron took a first step towards the barrier and shouted to his team.
Jerry: Let's mosey.
Ron: "MOVE!"
Trent: SHOUTING!
To Be Continued….
Zack: Damn.
THERE YA GO, NOT MUCH HAPPENING IN THIS CHAPTER, I'M JUST KINDA LAYING THE GROUND WORK FOR THE NEXT CHAPTERS.
Mike: Nothing happens in any of these chapters, it's just random crap.
AND NOW ITS TIME FOR "FAN-CHOICES", THIS IS THE PART OF THE SHOW WHERE YOU THE FAN'S GET TOO CHOOSE THE FIGHTS FOR THE NEXT FEW CHAPTERS.
Lauren: And by "show" he means "terrible fan fic."
Brad: And by "fans" he means "the special people that actually like this crap."
AS YOU MAY HAVE NOTISED, I HAVE CREATED TWO TEAMS WITH FIVE MEMBERS EACH, WHICH ARE...
Jerry: Characters no one cares about.
TEAM ZORPOX - ZORPOX, SHEGO, DRAKKEN, FUKUSHIMA AND GILL.
Sam: What is this? American Gladiators?
AND
TEAM RON- RON, TRUNKS, KIM, YORI AND Mr BARKIN.
Trent: Why is the "r" lowercase?
AND I WANT YOU TOO DESIDE WHO FIGHTS WHO-
Zack: You know, if I actually knew who most of these idiots were, the combinations the more sadistic fans picked might be funny.
I HAVE ALLREADY DESIDED TO HAVE YORI FIGHT FUKUSHIMA
Sam: Too bad you didn't "decide" that.
Mike: Also, doesn't that take away from the whole "you choose" option?
AND TO HAVE RON FIGHT ZORPOX... (DUH!)
Trent: Why is all this in caps and bold?
Jerry: Because the author doesn't know how to write subtly.
Trent: Ah, Bakuda's style of writing then.
Jerry: No, he just didn't know how to write.
Trent: Point.
BUT THE OTHER FIGHTS ARE UP TOO YOU...
WILL IT BE - DRAKKEN VS TRUNKS?
COULD IT BE - GILL VS BARKIN?
Jess: Will anyone besides the author care?
MAYBE THE CLASSIC COMBINATION OF - KIM VS SHEGO?
REVIEW THE STORY AND LEAVE A VOTE
Brad: I vote for you to stop writing.
AND FIND OUT WHAT FIGHT WILL BE COMEING IN THE NEXT EPISODE OF...
Zack: Crappy Fan Fic Ball Z!
DRAGON BALL Z : THE NEXT SUPER SAIYAN
(I'VE ALLWAYS WANTED TO SAY THAT...)
Jerry: God you're a dork.