Steel Broadsword:
Effective in close range combat, es
Cost: 40 gold
Mithril Broadsword:
Superior to the Steel broadsword.
Cost: 60 gold
Blunderbuss:
Basic firearm of the Conquistador. It literally means, 'Thunder Gun' due to the large sound produced when it is fired. It is extremely effective in close range. It can fire twice without reloading. Reloading takes up an entire post.
Cost: 100
Trench Gun:
One of the strongest weapons in the game. A highly improved version of the Blunderbuss, this fires several small spherical balls. At a close range, not even the best armour can withstand it. Fires twice without reloading. Reloading takes up an entire post.
Cost: 150
War Horse:
A noble steed, of higher breed than most other horses. They are avaliable in a variety of colours. They can easily trample, kick and headbutt enemy troops. It is moderately well armoured, enough to handle a few shots.
Cost: 60
Thunder Steed:
Although marginally less well-armoured, thunder steeds are blindingly fast animals with an incredible physical build. They can reach speeds of over 60 miles per hour with full armour on.
Cost: 90
Chain Mail:
Offers good protection against swords and spears, but innefective against bullets. Allows the user to be highly mobile.
Cost: 40
Plate Armour;
Strong armour. Can save a conquistador from even gunpowder.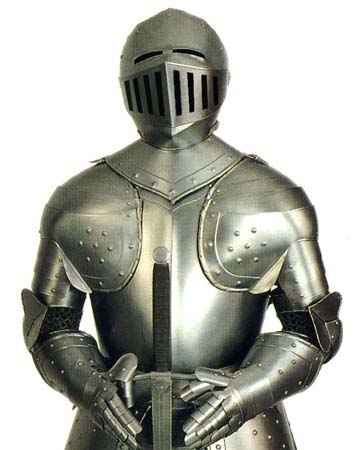 Cost: 120