Name
: The Warden
Secret Identity
: Warren Christian Saint
Age
: 36
Occupation
: US Deputy Marshal
-Former:
Gotham City Police Officer & Detective
Height
: 6'2" ft.
Weight
: 220 lbs.
Hair
: Light Curl, Messy
Eyes
: Dark Brown
Build
: Toned Athletic Fitness
General Description
: A city man, but he enjoys western wear and he usually sticks out as he portrays some gunslinging badass with a large bone to pick. He is known to wield two old western Colt Single Action Army revolvers with ivory handle. On his belt he wears his badge with his gold eagle buckle. His boots are deep black cured leather. His skin is tough and he is rugged with that always barely shaved look. He is a man worn by years but these are the type of things that define him as a person.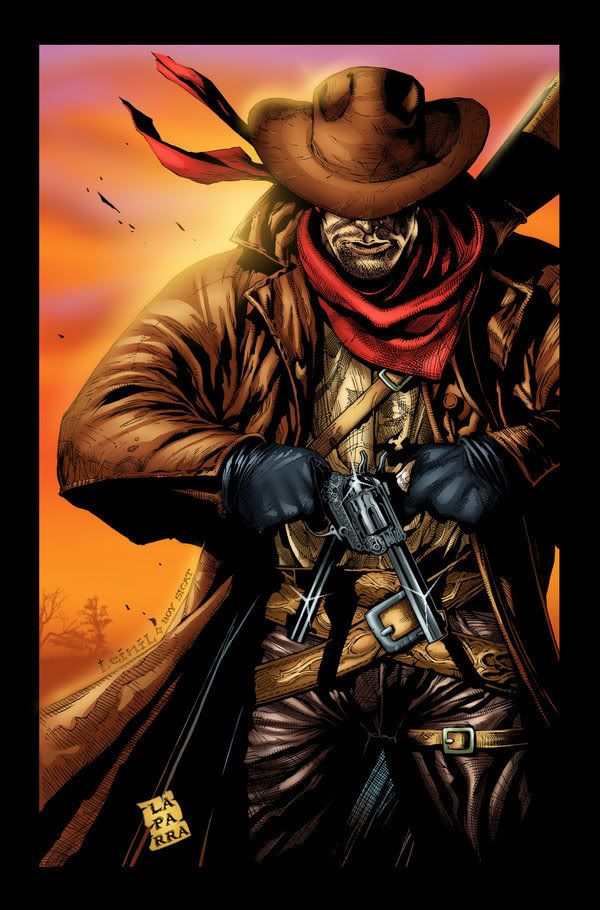 Personality
: A roughneck sarcastic gun toting son of a buzzard with an attitude to fit his looks. He holds a grudge with the past with a skewed moral compass, but in the end always finds a way to do right. He struggles with issues of faith being a natural born skeptic relying on a mind born to notice pattern and cut through illusion. Some would consider Warren a man of ill social repute as his attempts at social interaction and empathy are stunted. Hence a very blunt tell it how it is person. Though now thrown into a world of Demons and Angels he is pit against sins and virtues. This always forces him to find a new perspective. In the end he is a loner liking to follow his own path. Warren tries to protect others even if at times people will not like him for it. Frayed around the edges but a noble man through and through.
It is known that he has a temper problem blowing off at the mouth when triggered. He likes to rough it with those he gets involved with and has a penchant for intimidation tactics. He is the man many think is playing bad cop, but they are sadly mistaken to think it is an act. Fittingly he is balls to the walls action lover as he is known to wreck a police car or to for the sake of a rush in his job (Gets nicknamed the wrecker for this purpose). Despite his violent tendencies he can be quite gentle and a family man when it comes down to it. He loves animals (Shown by his cat Cletus) and children (As shown by his Nephew Mikey). With this it causes some conflicts when people expose him to his homebound origins and cannot understand how he could ever be that person when on the job.
Powers
:
Mark of Grace:
__Divine Resurrection/Semi Immortality - Being a Warden means by the right of the Divine powers that be you cannot die or deserve to move on till they say so. You feel all pain and are far from invincible but when you die 7 seconds, Minutes, Hours, Months, or years later you will come back all pending on the crisis at hand - or level of spiritual restoration needed. Resurrection either happens on the spot by healing of all physical ailments and means of death, or resurrection in a place in which one is needed. This ability will not work if one commits suicide because then they will be condemned and instantly sent off to purgatory a realm of forgotten and deceased souls. All death must be caused by another source or naturally.

__Warden's Aura - This aura is unique to all Wardens and is their signature. The color of the Aura can be very bright white, silver, yellow, blue, green, or any variation between those colors. Warren's is silver and it is a smokey Aura that prevents bad spirits from possessing him, and harming him to the extent a normal mortal would be. All spiritual beings and people who can sense and see spirits can feel the presence of this Aura and what it means. This is the current knowledge of the Aura it is unknown what other capabilities are possible.

__Warden's touch - From their Divine aura the Warden has a blessed touch. This means any weapon of choice a Warden uses is in all senses is divinely enchanted. This allows one to smite dark spirits by uncommon means even when they are intangible. This touch can provide wards to innocent or good honest souls also as a means to spread the Wardens Aura. This means the target would be encumbered by the Wardens Aura at all times. The warden can choose to deny or turn off his blessing upon targets at any time he chooses.
The 7 Holy Virtues:
The 7 Holy Virtues is a gift from the Angels to the Eldest Warden's. It is uncommon for many normal Warden's to have such a power as it means one spirit is transferred into a near Angelic state. Though the there are known Wardens with Old Souls who can tap into this aspect of Divinity; However, only an Archangel may allow this. Each blessing is only as strong or worth potential equal to the act stated by a given virtue. Each act is measured in its worth pending.

__Chastity (purity of soul) - Given clarity and the ability to see Evil spirits and Apparitions.

__Temperance (self-restraint) - Preternatural Luck (Able to avoid things that would be unavoidable. This does not apply to everything as some things cannot completely be avoided. One attains the uncanny flukes and lucky misses or shots.)

__Charity (giving) - Divine Healing (Heals all normal wounds that are not effected by some sort of magic or cantrip in the errata of Destiny.)

__Diligence (zeal/initiative) - Divine Foresight (Able to see only seconds into the future)

__Forgiveness (composure) - Rewarded with a blessing of his asking to an extent.

__Kindness (admiration) - Ethereal wings (Granted as a means of flight.)

__Humility (modesty) - Divine Strength (he strength depends on the act. Limit unknown, but currently known to lift 5 times his own weight. 1100 lbs, approximately ˝ Metric Ton.)

These abilities usually only last till the end of the day at most times or as long he is committing a virtue which can bypass the one day rule.
Weaknesses
: Still human he can be hurt and die despite the fact he can resurrect himself. He is morally challenged and forced to abide by virtues that sometimes he cannot keep to. The fact that he does not trust either side of the fence and walks the line for himself at this point. His powers can be affected also by the...
The 7 Deadly Sins:
As a Divine safe guard for the holy Virtues these chosen Warden's are bound by their actions. Each Curse is only as strong or worth potential equal to the act stated by a given sin. Each act is measured in its worth pending. When a curse is placed its corresponding blessing is lost.

__Lust (excessive sexual appetites) - Blind to all dangers and evils around him until he commits an act of the corresponding virtue

__Gluttony (over-indulgence) - Preternatural Misfortune (The inability to avoid bad things that happen usually one will be extremely accident prone and have an off day.) until he commits an act of the corresponding virtue.

__Greed (avarice) - Inability to be healed and is marked with lesions until he commits an act of the corresponding virtue.

__Sloth (idleness) - Slowed reaction time (Moves very slow) until he commits an act of the corresponding virtue.

__Wrath (anger) - Encumbered with a misc. curse equal of his deed, but murder (willful killing of an innocence, or individual marked by destiny to live) condemns one to a place in hell until he commits an act of the corresponding virtue to show repentance and a changed way.

__Envy (jealousy) - Weighed down by what one would say by otherworldly weights.

__Pride (vanity) - Enfeeblement

These abilities usually only last till the end of the day at most times or as long he is committing a Sin which can bypass the one day rule.
History
:
Divine Origins
The Rise Of The Wardens
In the beginning there was light and the Creator saw that it was good and born gifts into this new world. Men were formed from the earth and time began turning the world around the sun. However men just as the most perfect of the Creators Angelic Guardians fell from grace. However before the tale of the first flood there were noble men striving through their trespasses to do good in the world. The Creator saw this and was pleased though unable to dabble in the affairs of men by his own will he sent the greatest of his angels the Seraphim to greet them. These men were given the gift of his blessing but were tasked with greatest mission to purge Sin and Evil from the world. Many few men rejected this calling as was their choice. From this the Warden were born to fight all the many devilish nightmares and abominations. These men much as the Demons and the Nephalim (Devil-Spawn) that opposed them were as Angels themselves reborn perfect and immortal beings. For many years they were successful and kept the balance in the world.
Tales would be known from them of great heroes as they fought both beast and giant and some even the Fallen Star's own ilk. But with the conflict came questions for those of weaker and sympathetic resolve. Lies were forged and brought many brave Wardens to their knees through simple doubt. With this eventual turn of power those who would follow would be given powers and new blessings. No longer was only the security of Heaven their promise in victory and love of the father. With Lucifer and his flock they were promised the earth, the stars, and all the realms to enforce a new order, a better order. These fallen would be known as the Collectors those who would come with promises and to take the souls of the worthy and breed more of them under them. Unlike the Warden's who were chosen by the Archangels out of pure hearts the Collectors could be spawned out of desire, while individually weaker they were born a legion upon the land ensuing a great war.
It was a battle that lasted many centuries scarring the earth with blood and sin. Plagues were brought upon men and the innocents died becoming few as the legions of hell began its claim upon the Earth. In the end the Warden's few in number and suffering blows in the absence of their Father would become locked into a stand still over Eden. Joachim the first Warden and the purist of heart crossed the boundaries and make a deal of his soul with Lucifer. The Prince of Lies would be given his soul to do with as he willed, but in turn both Warden's and Collectors would be bound from open conflict upon the world until a certain time. This event marked the first time the Father/Creator would witness upon the world to judge this promise. The Celestial Concordance would be borne with his word spanning cross the universe and many dimensions binding heaven and hell to secrecy behind a veil. This would mark the first sign of the Great Deluge as the Creator wiped the world clean for a new age of Man. In turn many of the Elder Wardens would die with those Collectors apart of their Order. A less divine and mortal flock were birthed from these ashes who would become silent guardians.
Mortal Origins
The Birth Of A Man
With the coming of the 20th century the pact would begin to wane, Wardens and Collectors slowly regained the will to combat even if within the shadows. This would mark the beginning of a troubling time to come.
in 1991 Warren was born on a snowy Christmas Eve in Gotham to a happy family. Warren at a young age grew up adoring his father Andrew Saint a security guard of a Gotham bank and an avid western fan. This is detrimental to Warren as everything he loves about the Old West he obtained from his old man. Well sadly at the age of 8 Warren still in the stage of wanting be like his father gets some bad news about his father. Apparently a local gang called the Joker Cards copycats of the Joker, the villain of the Batman. This would attempt to rob all the banks of western Inner city of Gotham. In the process Andrew was caught up in the mess. He was violently tortured and beaten to death at the hands of these volatile foes. From that day the young Warren vowed to become a greater force of the law and Hero just like the men in his father's favorite western films. This would be a dream that would come to define him as a person.
Greater Force was an understatement as the man he became plowed through the ranks. He always forced himself to do better than the last time, and though he had lost all faith in a religion or deity he kept some perspective when it came to family. He would always support his mother Abigail, sister Lily, and his Nephew Michael (Mikey). So when he joined the police force there was no surprise he was appointed to the Western Inner City Gotham Precinct. Warren turned up that vow of a greater force to the max. Heads clocked together he was an efficient and volatile strike at the crime ridden streets of Gotham. Warrensoon became a detective of his own able to go around crime scenes and question people while still rounding up gang banging street thugs as they came around. With becoming a detective he changed that classic blue attire into something out of frontier western closet.
A Detective at the age of 26 he for 10 years had the highest crime solve and arrest record of any man in his precinct. He gained some notoriety as the Big Man and the Wrecker as he has also totaled more police cars in his career than any other known officer. Warren however had been on an internal slump to drink his self to incoherence on off time, and getting involved with women with lesser intentions. So it wouldn't be too far to see him in the midst of a bar brawl or street scuffle. Though more often than not he kept relatively to his own company. It was what he was known for to be on his own so he could make his own terms in the world.
The Warden
The First Of The Last
Things in Warren's life changed greatly however after ten years being a detective. Assuming he had seen everything fowl in the world he was confronted with new mysteries chipping only at the tip of the iceberg. Detective Saint would be patrolling a cemetery for a suspect to a murder case involving a local priest. Much to his chagrin evil was lurking in the shadows as a curse was placed upon the land. The dead had risen giving the Detective a great shock of the supernatural. The suspect obviously dead from what he knew leaving Warren trying to fight them off; however, a presence of great light and of Creation descended upon the realm. Warren had always been reluctant to except the paranormal but this light offered him ability to place the fell creatures in their place. He was unable to argue and the powers of the Heavens were imbued within his soul. Warren was confused but all he needed was the Wardens touch to lay waste to the undead.
It was his true calling even if he never knew it. Warren would come to believe that night as a dream, but the new power surging within him told him otherwise. Upon the seventh following night Warren would be face to face with the Light once more. It would show itself as a great being known as Eli, the Archangel of Creation. He would be given his first calling upon earth as a heavenly guardian something Warren rejected. This was a choice he would come to learn had its costs as his powers had prices for his actions both rewarding and punishing. Though he had small leeway between his prize and punishment he was only spared by his natural good will to help others. Of those people would be the former Police Chief's daughter Kiara Rorakson and her daughter Lucy. Kiara and Warren have always maintained a kind if trying public friendship with one another. Especially considering him being 12 years her senior, but he was the Chief's daughter and had grown accustom to grabbing her slack. When Lucy was born and her father seemingly vanished out the picture Warren stepped in as the father figure while Kiara and he remained respectively friends.
Warren would run into a mischievous specter named Allister causing trouble in downtown Gotham possessing trashcans and various objects haunting pedestrians. The Warden gave the impish sprite a chase and would catch up to it. Though for the luck of the Imp Warren disregarded its reality and gave it a stern threat before being called back to station. There he met up with his fellow officer and detective Kiara and they went through reports. Eli would eaves drop giving advice while the Imp would spy upon the Warden with curiosity. Eventually both would be called out on assignment to investigate a murder. In actuality there was another force in the works that was trailing both Warren and Kiara off in the other direction. Back at Kiara's home her young daughter would be kidnapped by a Collector. A ransom note was left something to put both officers on a manhunt. In turn Allister would make face and explain to Warren the Collector and offered aid having a personal gripe with them.
Warren and Kiara would use the riddle in the letter to weave through downtown Gotham to its blue light district. Through the criminal maze they would find their way into a bar called the Neon Alley. Inside the two police confronted by mindless slaves to the Collector. Warren would proceed to rendering these individuals unconscious and unharmed; meanwhile Kiara would scout out the back room which would be found empty. In the lounge room they would find a small TV and a video tape. On the tape Lucy would be shown in tears crying and the Collector who would make new terms and point out a new destination. He was out for Warren for a means that escaped both. There next destination would be west Gotham Harbor at the old Gotham Creamery and Packaging Plant.
Warren and Kiara would call up the swat force and would gun for the abandoned plant. However the police force would be met with forces of supernatural origins as shadows crawled the confines of the darkness decimating the swat unit and splitting the two detectives up into the bowels of the creamery. The Collector who revealed himself as Cale Huxley would keep Lucy hostage inside a hidden part of the building. It would also be learned that the Collector was indeed the girls father who drew Kiara along to conceive her, making Lucy apart of a greater underworld scheme. Cale offered to trade the girl for Warren (though he held no intention of keeping his promise). Meanwhile Kiara was lured into safety by another demonic force a rivaling Collector known as Marshal. He was a pre-flood Collector and among the most legendary Warden's to ever have been. Unlike Cale who was an elite among their kind, Marshal was on par with many demons able to command his own small legion in hell with other Collectors under him.
Marshal was not acting alone as a darker force lingered in the background with Kiara's interest. Truthfully he was quietly orchestrating the whole incident. In the end the shadow would strike a deal with the female detective offering the survival/freedom of Warden and the guaranteed protection of her daughter all for her soul. Kiara not knowing better or the exact odds placed upon the table agreed. This shadow would in turn evoke Marshal to usher the new soul to its place under his rank. In turn Cale was unable to fully pull the wool over Warren's eyes before being whisked back down to hell by a higher force. In turn Warren would be cast through a hell gate in front of his car where the elusive Imp Allister awaited him having scattered off during the appearance of the Shadows. Eli would give Warden a cryptic message in a nonchalant manner ordering Warren off to the station. Warren would be distraught but unable to deny the angelic order which seemed take will from him.
At the station people seemed unaware of the existence of Kiara or the SWAT unit that were out at the harbor. In turn he would be met by Agents Winchester and Hathaway who would inform Warren that he had effectively been promoted for his service to Gotham and the state of New Jersey. He would be answering to the Federal Government and serve as a United States Deputy Marshal. In turn he would be sent his first mission to find and arrest a dangerous criminal suspected for the deaths of 37 varied victims. Unknown to Warren Eli was playing the cards to counteract the stir of events having to forgo the basic training and begin a greater mission involving Lucy and another little girl.
Notes
: Trash the old bio, don't delete. Keep it just for reference.