this is a OC roleplaying board! we have tons of characters for you guys to pick up in canon list! enjoy your stay.

today is December 4, 2009
Friday
34/19 degrees -- sunny with snow showers


Updated skin on 11/28/2009
Updated board son on 11/28/2009
Please check out news section on board!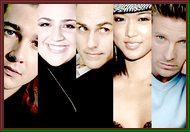 PM on:
Dominic Carmelo Donotelli
Eva Marie Caprove
Mario Luis Caprove
Hera Grace Lee
or
Ian Michael Caprove


Coming soon!!
Credits
Sidebar: Dana
Coding Help: RCR
Graphics: AM