Name:
Tatiana Teague
Alias:
Brood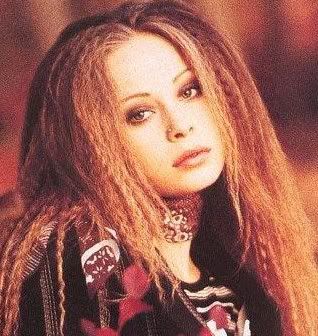 Physical Statistics
Age:
17
Gender:
Female
Appearance
Height
6'1.5"
Weight
135lbs
Hair
Reddish Brown
Eyes
Blue
Notes
Tall and slender, Tat has finally begun to leave the awkwardness of forever being the tallest girl in her grade. With strange eyes and a sour expression, she tends towards darker clothes with a grungy style. She often wears gloves, skulls, and long jackets. The only make-up she can generally be found in is a thick layer of black eyeliner.
Beneath the jackets, hoodies, and long sleeved shirts, Tat has scars from severe chemical burns on her upper right arm and shoulder and starting at shoulder level on her back.
Contacts:
Relatives:
Biological Mother- Rita Barreto
Biological Father- Unknown
Adoptive Mother- Nicole Teague
Adoptive Father- Donald Teague
Allies:
None
Enemies:
None
Personality:
Tat is a very insecure 16-year-old. Having felt constantly like an outsider, is afraid to reach out to anyone and often is found by herself. Tat fears further rejection and pain caused by others. It is because of this that Tat began constructing the facade of a bad girl. She comes across as brash and arrogant, often cursing and pushing people away through snide remarks and by being generally bitchy. This is, of course, when she chooses to be around people in the first place. Cultivated into the loner type she tends to avoid crowds and the teasing she has come to expect from them.
If given the proper TLC Tat has the potential to be a great and loving friend. If the hard exterior is chipped away a caring and insecure girl will be revealed.
Talents:
Swarm
Tat is able to change her body into that of a swarm of insects proportional to her mass. In this form she is able to fit through spaces a normal human couldn't, sting or bite enemies, and obscure their vision. She is capable of moving only at the speed of the insects she is made of. Tat is only able to change into those insects that she has personal experience with. Seeing a picture or a documentary is not enough, as Tat must touch or have touched an insect in order to shift into the form. While in insect form, she is capable of producing the venoms or poisons associated with that insect.
Physical attacks tend not to do much harm to her. Any injuries to the swarm are correlated into injuries when she reverts into her normal form. She instinctively disperses the injuries to the slightest amount of damage in human form. If she were to have enough of her swarm harmed, for example, to result in losing an arm, she would instead reform into a human with the injuries dispersed to superficial wounds on her arms, legs, and torso. If half of her swarm is killed, she would reform as a severely bruised and unconscious human.
Any attack that kills each and every insect she is composed of will result in her death. However, if even one bug remains, Tat will survive in a comatose state until she fully heals. This could take up to months to occur.
Insect/Arachnid Control
Tat is capable of controlling insects and arachnids within her vision. Once they are under her control she is able to move them outside her field of vision through a mental link. Tat is remotely use their senses to view their environment.
Immunity
Because of her exposure to the radiation Tat is now immune to any further effects of radiation. While in insect form, Tat is immune to poisons and venoms as well. In human form, Tat has a higher resistance, making poisons, venoms, and drugs are half to a quarter as effective as they should be.
Running
While not a super power, Tat has enjoyed the sport of running for a few years. She is an excellent runner, having built up enough endurance to run a marathon. While she is not yet capable of making first place in a competition of professionals, she would be a star on any track team.
Artist
Tat has developed a raw talent in sculpting. She has a special affinity for metal working, although she is also adept at other forms of sculpting.
Weaknesses:
Human
In human form, Tat gains no benefit from her powers and is just an overly tall 16 year old.
Energy Attacks
While in swarm form, energy attacks are quite effective. Any attack that kills each and every insect she is composed of will result in her death. However, if even one bug remains, Tat will survive in a comatose state until she fully heals. This could take up to months to occur. Physical attacks could also harm her in bug form, but are much much much less effective.
History:
Tat was the 14th pregnancy and 6th child born to a prostitute in the worst of the slums in Anhui China. Her life was a blur of violence sex and drugs until the day she was taken by gang members in the neighborhood and entered the world of Human Trafficking. Lucky for her, the group that was holding her had been watched by various government agencies and swarmed before anything more than a beating could occur. Rather than return to her life before, Tat claimed her parents were dead and was taken to an orphanage in Beijing.
It was at the orphanage that Tat was able to learn English and continue an education that had been spotty and lacking before. When Tat turned 12 she was adopted by the American woman who had been teaching at the school and was brought to a very small town called Wells in Texas with a population nearing a grand 1200. Rather than being accepted, Tat was mocked for her thick accent, her father's job as the sheriff, her awkward height, and the fact that she was a grade behind. She had no chance of fitting in.
As Tat entered high school she began to rebel, much to the concern of her parents. Her clothing turned as dark as her attitude. Now the 'loner' type, Tat took to wandering the countryside, often spending the weekend camping out with only her horse, Miller, for company.
It was during one of the jaunts that a rattlesnake spooked Miller. The normally well behaved horse reared at the noise of the tail and sent Tat flying into a small ravine where she hit her head. She woke up 8 hours later to find herself with a broken arm, sprained ankle, and covered in a thick muck. Unable to climb out of the ravine, Tat waited for help. Luckily for her, Miller had ran straight home and her parents quickly sent out a search party. Within another hour, Tat was found and taken to the hospital with a high fever and large burns where the worst of the muck was.
At the hospital, it was found that Tat was radioactive. Only then did her parents discover the muck that had been covering their adoptive daughter had been caused by an old canister of radioactive waste that had deteriorated over time, only to have the weakened side cracked open by Tat's skull. The position of her unconscious form had protected her head but her upper right arm and back had taken the brunt of the radioactive stream were noticeably and permanently scarred. She spent the next several months in and out of hospitals for treatment, putting her further behind her classmates.
For the next year Tat seemed as good as could be expected for a girl who suffered permanent damage. The incident only caused her a further segregation from the school. While it didn't change her mindset as her parents had hoped, it did help to shore the rift that had been forming between them. Tat turned 15 when the changes started. She had odd dreams of insects and new view points, and would wake up to find herself in odd places and naked. Fearing that she was as insane as her classmates believed, Tat kept these oddities to herself. She began having strange sugar cravings and started consuming more food. Her parents worried she was pregnant.
Her Sophomore year began at the high school, and Tat began working as a bag-girl at the local Five and Dime. One night as she walked home from the closing shift, the local boys began to hassle her. She tried to ignore them and keep walking but Bobby Fontaine, the ringleader, grabbed her and tried to kiss her. Tat punched him in the mouth and began running. Riled up by the action and group think, the boys began to chase her, grabbing her a mile from her home. Tat panicked and exploded into a swarm of wasps. Her fury took over and she exacted her revenge, swarming the boys and stinging them. Fury turned into elation that she had finally caused them pain, then fear as she realized what she was. That fear turned into panic when she couldn't change back.
Tat flew home and hid in a closet, turning human only after a great effort. Her parents found her huddled inside and sobbing. She finally explained what had happened. Rather than hating her, as she had feared, Tat's parents came up with a plan. 6 years earlier a string of murders had occurred in Cherokee county with no hope of being solved until a strange young girl had been sent to help. She had solved the crime, staying at the Teague home with her father before leaving back to Freedom City. Donald quickly made a call to Freedom Chief of Police Miller, and was referred to Claremont Academy. Tat has remained mostly unchanged, despite the numerous kidnappings and attempts on her life. Since coming to Claremont Academy, she has learned to fight better, and has lost some of her sharp edges, at least around her boyfriend, Chad