THE USUAL SUSPECTS
Sam Winchester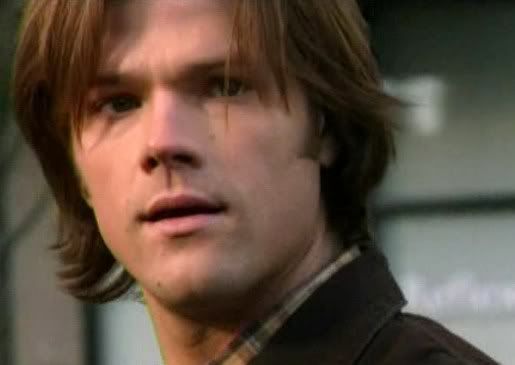 BORN UNDER A BAD SIGN
CHARACTER FULL NAME
: Samuel 'Sam' Winchester
NICKNAME(S)
: Samey....only Dean calls him that and he hates it.
AGE
: 28
BIRTHDATE
: May 2, 1983
EYE COLOR
: blue
HAIR COLOR
: brown
HEIGHT
: 6'4
OCCUPATION
: Hunter....uhhh does credit card scams count for money?
ALLIGENCE
: The Side of good
TYPE(HUMAN,DEMON, VAMPIRE ETC
: Hunter
ORIENTATION
: Straight
DISTINGUISHING MARKS(TATOOS & PIERCING)
: One on his chest, keeping him from being possessed.
PLAYBY
: Jared Padalacki
MODE OF TRANSPORT
:
His brother's impala or whatever care they decide to car jack.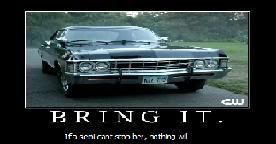 DREAM A LITTLE DREAM OF ME
PERSONALITY
:
Sam has been through hell and back...literally. He's had many ups and downs in his life but one fact still remains, he is who he is. He has seen hardships but that doesnt mean he's cold hearted. He has a gentleness about him that is almost refreshing to others and can stand back and understand mroe sides to the stories then his brother can. He cares deeply for others and does his best to make a point to look at their side before making a decision. He tries to get Dean to understand that not all supernatural beings are evil; some are just misunderstood.
He tries to make sure Dean sees things more logically. He might not always think when he should. He sometimes does things out of emotions and that can be a downfall of his but it also makes Sam who he is. The man isnt pefect. Sometimes he does lash out and take things out on Dean when he feels he's not being heard or ignored. that is a Pet peeve of Sam's, being ignored and not heard. He cant stand for Dean to just over look his point of view or his suggestions.
Sam does have a goofy side to him and loves to joke around. He also does love the closeness they have with each other. Ain't that right JERK?
Yes, Sam and Dean have always been close and he's glad to have that once again with him, family is all they have ever had. Sam has also grown more comfortable with being who he is and has taken on more of the burden. He feels he has just as much right as Dean does to take the lead once in a while and will voice when he feels he's not being given the chance.
He still is more reserved with his feelings, and even though he wears his heart on his sleeve and is a horrible liar he does tend to be over protective, and always wanting to be the one saving. He can not stand loosing a life, and breaks his heart everytime he has to watch someone die.
LIKES
: Health food, women, Researching case work or lore of any species,
DISLIKES
: Loosing the people he cares about, clowns, Hating being called Samey but anyone other than Dean and occasionally Bobbie.
HOBBIES
: Hunting, fighting the supernatural, saving lives...the whole shibang
HABITS
: questions first - shooting later
GOAL/S
: Make amends for the past wrongs he's done, fight the good fight and save as many people as he can
FEARS
: Remebering hell
WEAKNESSESS
: His temper sometimes flares at the wrong moments, a pretty face, His family
ABILITIES
:
Sam has perviously had the ability to have precognition dreams and visions. He could also sense spirits. He has immunity to certain demonic abilities. He used to be able to exorcise demonic spirits from human hosts, and even killing the demon. Also showing signs of strong telekinetic abilities. But he has to drink alot of demoic blood for that which he doesnt do anymore and will never do again; so his powers are non existent.
He also is very skilled in many forms of combat. He has a high level fighting skill and is very versed in weapontry. He has been trained in the forms of firearms, shot guns, and any form of melee weapons.
He's very versed in Latin and can recall latin incantations quite easily. He also knows how to pick a lock and he is a computer hacker, car jacker and is a very skilled con man.
FIVE WORDS
:
MOTHER
: Mary Campbell Winchester (Deceased)
FATHER
: John Winchester (Deceased)
SIBLINGS
: Dean Winchester - Older Brother
WHAT IS AND WHAT SHOULD NEVER BE
GENERAL HISTORY
:
Sam was born in Lawrence, Kansas. He was born to Mary and John Winchester; the youngest of two boys. So that places him 4 years younger than his brother Dean. He was named after his mother's father; his grandfather Samuel Campbell. He didnt have what you would considering a normal upbringing. He was never a normal kid and never had a normal family.
At the age of 6 months tragedy struck his family and shook the walls of what could have been a perfect life with a perfect family. His mother Mary checked on him, making sure that he was ok for the night when she interfered; a demon with yellow eyes standing over his crib. She interefered with the plans of the demon Azazel. He killed Mary that night the nursery, setting her on fire on top of the ceiling and disappearing. John saw her burning and had Dean carry out his brother for safety. Things after that night were never the same. John learned about the supernatural; becoming a hunter.
He taught his boys everything he knew, how to use a gun and how to kill the supernatural beings. How to protect themselves. Sam spent many years in hotel rooms, waiting for his father to come to get him and Dean after he was on a job; moving the boys constantly and always finding themselves in a different school. Sam and John never saw eye to eye as he grew older. Sam and Dean only had each other and were always close; but sometimes that closeness did have its brotherly loving brawls.
He had many influental people in his life as he met many of them. Never in one place and always traveling gave him that opportunity. He decided he wanted a normal life as he grew into his teens, deciding that he had to go his own way and make his own path. Leaving the family "business" and walking away from its monsters and demons. He decided he would go to college, Stanford. He almost graduates Stanford, and applies for law school.
His life was perfect, finally where he wanted it to be. He even found a girl he was falling in love with. Jessica was perfect for him; perfect in his eyes. But that is short lived when Sam is thrown back into the family hunting when Dean shows up and tells him that John is missing. Aggravated that Dean had come to drag him back in he agrees to help him, finding out that this was all a wild chase and their father's journal leads them to a new location after they come to a cold trail in the hunt to find him.
They decide to take Sam back home, tired of hunting he just wants to go back home to a normal life. But when he gets there his memories are jogged and finds his girlfriend burning on top of the ceiling like his mother had, angered and knowing full well it was the same demon Sam out of revenge joins Dean. Knowing he could never escape this life.
His many hunts and adventures finally lead to his father who comes to his son's rescue once the demon Meg rares her ugly blonde head. But he's soon captured, rescued by the boys and taken away from the demons that had him. Soon they realize he's been possessed by Azazel and they shot him, Sam unable to kill his father to kill the demon out of love for his father. Many fights had he and John had but he loved him and wasnt able to take the shot to kill the demon that had killed his mother and Jessica. Azazel escapes and the boys and John go on the hunt again.
But before they could even get far a fatal crash claims their car. Landing the boys and John in the hospital. Sam wakes up, and as does John. But they can't get Dean to wake. Things start worrying Sam when he makes contact with Dean through a Ouija board. Sam realizes there's a ripper there trying to take Dean. John summons Azazel and trades his life for his son's, instantly dying once Dean's life has been restored.
Sam and Dean find their father dead, having a hard time coping they both deal in their own ways. Dean shut down and Sam tired his best to get him to talk about it. Sam may not have seen eye to eye with John and always questioned his motives and ways but he loved his father and had a hard time dealing with his death as well.
Sam learns of his powers, as he began having more vivid dreams and precog visions. He began searching out the kids that were like him; and learned there were psychic kids just like him that had the same death of their mothers as he did. Talking with Dean, Sam learned that his father had told him something before he died. He had told Dean that if Sam turns evil, or changes for the worse that he would have to destroy him. Azazel had planned on using Sam for evil. Sam decided that he held his own destiny and decided to change it, deciding he had to save as many people as he could; and saving the psychic children as well. That they could be used for good instead of evil; that what they had were gifts.
Sam later learned that Azazel had created these children with Demon blood. They were special and had these powers but the blood is what brought the powers to life. They were infused with demon. Sam fought against the last psychic for his life, being killed. Dean restored his life by making a deal with a crossroads demon. Sam was resurrected and thought he had just been stabbed. But instead they tried to keep his death from him. Sam and Dean; Bobbie and Ellen go after Jake. Sam's killer. Fidning him in front of the devils trap with the the colt; the gun that can kill anything supernatural. Turns out its the key to open the gate of hell; Jake opens it and releases thousands upon thousands of demons into the world.
Sam kills Jake in cold blood, scaring his friends at how ruthless his murder and self defense was. Azazel appears. Dean fights him and is assisted by John who crawled out of hell to witness and be apart of Azazel's death. Dean shoots Azazel with the colt, finally avenging their mother and Jessica's deaths.
Sam learns what Dean had done, selling his soul for his life. Sam swears he will find a way to get Dean out of the deal; finding a way to save Dean's life who only had a year left to enjoy it. Sam's having a hard time dealing with the fact that nothing seems to be helping in his quest to save Dean. He begins changing, trying to prepare himself with a life without Dean. He doesnt know how he can live without his brother but he has to continue the fight and saving people so he starts realizing that sometimes you just have to kill and ask questions later. Taking on a new persona to get ready for a life without Dean.
Later a demon Named Ruby meets up with Sam and Dean. Fixing the colt and saving their asses a time or two. She earns their trust and becomes an alli to the two brothers, even though their better judgement is having a problem with such an alliance.
Soon another demon, a bigger Demon then they realize begins surfacing. Lilith comes to town, bringing new players into the game. She was the collector of Dean's deal. Sam had realized that Lilith had no power over him and that was due to hsi demonic blood. Dean was killed by hell hounds and left Sam alone with Ruby to fend for himself. He closed himself off, shut down and didnt want to have much contact with Bobbie adn the others.
He only had Ruby who had gotten closer to him. Having a small romantic relationship. she had also taught him to use his powers differently. He leanred to channel them. At first it was small things; taking demons out of their hosts and sending them to hell and saving the humans. But then it grew as he began drinking blood. He started drinking Demon blood and he realized his potential. He could kill demons without to much effort. He had thought he was doing the right thing, doing a good and righteous thing, and it felt good. Being powerful and helpful made him feel needed; wanted.
He did meet back up with Dean who had been pulled out of hell. Dean tracked him down along with Bobbie and after doing the routine checks he realized it was his brother. They soon find out that it was an Angel named Castiel who had pulled Dean out of hell. Soon they began an alliance with the Angels, almost forced to work with them to stop Lilith who they had learned was the first original demon. She was scared of Sam, supposedly Sam was supposed to be the leader of the demon army in the upcoming evil plan but Sam fought it; not giving in to evil and going against Lilith who began breaking down seals...to raise Lucifer and bringing about the Apocalypse.
Sam and Dean go against her, Ruby leading Sam and Dean against each other and Sam realizing at the end after killing Lilith that Ruby had been a liar all along and had been playing him. Helping hold Ruby, Dean killed her. And Lilith was killed by Sam, who ahd broken the last seal and was unleashing Lucifer out of hell.
Sam and Dean were saved by god and put on a plane...Sam being detoxed of demon blood and completely loosing his demonic powers; and set on a right path without demon blood inside him; tempting him. He did have a hard time adjusting to his life without the blood, wanting to feel powerful and needed. but he knew that was a path he didnt want to go down again; he had felt the evil inside him and now they had to concentrate on killing Lucifer.
Their alli Castiel, began fighting against the Angels. Knowing that they had fight Rafel and do things their way considering Dean and Sam were not going to be meat suits for the planned Apocalypse that had already been set into motion. Realizing they had been lied to Sam and Dean take it upon themselves to save the world from the devil and do it their way. They end up taking a short break from each other; going their separate ways they soon come back together when things take a nasty turn.
Finally the boys capture all the horse men's rings, and Dean having a hard time going along with Sam's plan gives in. They bring Sam to the devil; Almost handing over his meat suit to him. Sam says yes as they open the portal of hell, but Lucifer has complete control of Sam and closes the portal. Another chance arrives when Dean confronts Sam as Lucifer and Micheal as their half brother Adam as his vessel. They fight and Sam regains control of his body and opens the portal of hell. He pulls Adam and Michael down into the pit with him; trapping them all into a cage in hell.
Sam found himself once again Alive. But in a different way. He was pulled out of hell and he spent a year with his grandfather who was also pulled out. So two people were out of hell and now they continued the good fight of saving lives and being hunters. He grew closer with Samuel, his grandfather and only after realizing Dean was in trouble he saved his brother from Jinn's.
He teamed up once again with Dean. Having a hard time with Sam being back they had to learn to cope once again. Sam was dealing with his own issues of feeling lost; empty. It was later realized that he didnt have a soul and they had to work for Crowley to get it back. Finally after realizing Crowley couldnt get it back Dean took it upon himself to have Death (the horse man) get it back for him. So Sam was re souled and was having memories of what he had done. Death put up a barrier, a wall into Sam to shield him from remembering what hell was like and what Lucifer and Micheal had done to him.
He slowly began seeing what he had done, bits and pieces of hell but the barrier was holding. He's realized what type of soulless prick he had been and wants to make amends. He can't let himself get away with doing the things he's remembering.
RP SAMPLE
:
Sam drove, his eyes blinking as he tried to stay awake. Things werent as they should be and he knew it. He was a bat out of hell and he knew things werent quite right. How was he alive? He knew there were things that had to be answered, but he just couldnt find them. He was so confused as to how his memory was so blocked; so unfocused. It had been a year, and to him it had felt like 100. He had been traveling, checking dates and trying to find answers but he was coming up short, and he honestly didnt know where to go from here. He had kept tabs on where Dean was, and knew his brother was safe; but Sam couldnt help but stop himself from ruining Dean's final chance at happiness.
He knew he needed to tell Dean, but after swearing Bobby to secrecy he knew he had to tell him on his own time; preferably when he had answers. He passed a small diner, realizing his stomach was indeed growling at him he decided it was best he stop in and eat. He turned his car around, doing a U-turn as he headed towards the diner. Once in the parking lot he turned off his car, exiting with a hard shut of his car door. He looked around, alert as always as he entered the diner. He was more on edge then ever, if anyone knew he was out of hell there is no telling what would come after him, he had to be ready; be alert.
He sat down in a back booth, sticking to himself and not trying to draw to much attention to himself. He relaxed when he searched the area, only seeing two others besides himself. He was the only customer here. His eyes softened as he noted the woman approaching him. He didnt want to come off harsh, as he ordered a coffee and a bagel. He knew he was getting tired, fatigued as he should have pulled over sooner for a refill of food and checked into a motel but his mind was so wrapped up in finding answers, unsure of where to go from here.
He felt a gust of wind and sighed, pushing himself backwards to sit straight in his seat his eyes met the Angels. Knowing it was impossible to ignore his presence. "Cas..." He said in acknowledgement. He didnt know what else to say, or even how to explain his existence. Either Bobby had talked, or Sam could be sensed. Either way didnt hold a comforting feel and it burned Sam's stomach as he took a swallow of his coffee. "
If you're looking for an explanation you have a better one then I do I'm sure. You mind explaining to me how in the hell I got ripped out of hell? I dont have a hand print like you branded onto Dean. So either you ripped me out or someone else did...mind cluing me in on who?
" Sam asked as he bombarded Castiel with questions. He was frantic in finding answers, something that made sense and if Cas didnt know, and didnt have the answers then the possibilities frightened Sam.
HAVE YOU READ THE RPG RULES?
: And Done
YOUR NAME
: Scarey Kerri
YOUR AGE
: 22
Credit: I wrote EVERYTHING out by hand, although the timelines of certain main points were kept in tune to Wikipedia.